Woman records herself while sleeping and discovers why she always wakes up tired
When a mother noticed that she often woke up tired in the morning, she decided to understand what caused it by taking a time-lapse video of herself sleeping during the night.
The video later uploaded on YouTube by user Fitmomma revealed how the mother had to perform the tedious task of taking care of her children, which caused her to wake up several times over the course of the night. This led to her fatigue while waking up the next morning.
She recorded the video on the night when her husband was traveling for work. On that night, the time-lapse video showed the mother-of-three tending to the requirements of her children throughout the night.
The video begins with the mother sleeping soundly on her bed. But just a few moments later, she suddenly wakes up and goes somewhere off camera.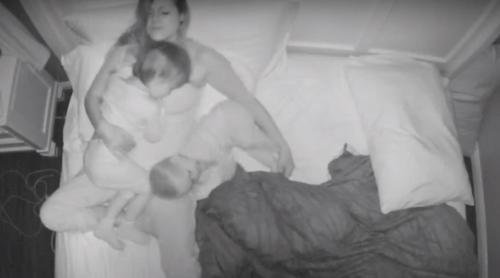 Follow us on Twitter to learn more
Several moments later, she re-enters the room, but she has now a baby in her arms. Apparently one of her children woke up and now she had to put him back to bed. She puts the baby beside her on the bed and then gets a few more moments of sleep.
A while later, her baby starts to get restless and shifts closer to his mother, cuddling her. He is constantly shifting in his place, changing position, and moving around causing the mother to wake up frequently and make the child fall back to sleep.
Then several moments later, the mother is faced with yet another challenge, when another child of hers is seen approaching her in the bed. She picks up the child and puts her back in the bed alongside her other baby.
Now her second child is sleeping on top of her while she gets a few moments of that much-deserved shuteye.
A few moments pass, and then she carries her second child back to his own bed. She returns to the bedroom and manages to get a few more sleep before her child again shifts in his position and places a hand against his mother's face, waking her up yet again.