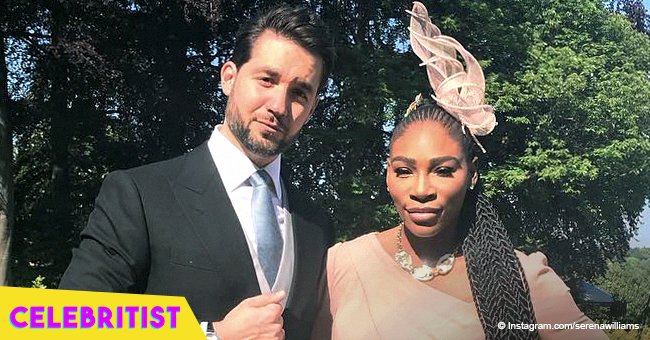 Alexis Ohanian embraces wife Serena Williams while posing on the rooftop of a house

When you're a superstar like Serena Williams, you have to be open to some of the most photoshoot ideas. Recently, the star had to endure standing on a roof while having a photographer take her photos. After some solo shots, her husband Alexis Ohanian joined in on the fun.
Serena Williams is a household name in tennis, sometimes even being the first that comes up on people's minds when they say "the greatest tennis player of all time." However, this title comes with a lot more than just playing the sport you love, but also countless advertisements, endorsements, events, and editorials. That is why as Serena's husband, Alexis should most definitely be getting used to all these shoots.
In the first photo of the slideshow, Serena stands on the roof alone while sporting a white t-shirt with a big "S" on it, black leggings, and some Nike shoes. She posed confidently, staring at the horizon as she placed her hands on her waist.
For the second image, a more zoomed-out photo displays a better shot of the beautiful house that Serena was standing on, showcasing its more detailed design.
While these two photos are stellar in their rights, it was the third that was particularly beautiful. In the picture, her Reddit co-founder husband found his way in, beautifully hugging his gorgeous wife while she pointed at something using her index finger.
After the tennis champion uploaded these photos on Instagrams, it was quite clear that Alexis was really head-over-heels in love with Serena, and her fans and followers took notice of it too.
Their photo shoot came a couple of days after the couple headed to Italy for a quick vacation after Serena was "craving for Italian food." Their trip happened after Serena lost the Wimbledon final against German tennis player Angelique Kerber.
In Italy, the lovely couple brought their adorable little girl Olympia, who seemed to be enjoying the sights with her parents. Of course, an Italian getaway would not be complete without some fine wine, a Venetian boat ride, and some beautiful sightseeing.
Due to their constant traveling, even Olympia has got the hang of all that comes with it, including walking on her own at 11-months-old and being able to push her luggage.
It was an adorable sight when Serena proudly shared a video of her daughter pushing around a piece of luggage that was much bigger than her own body. In the video, the little girl could be seen pushing it towards to door, and then slowly looking back to see if anyone else followed her lead.
Alexis Jr. is one street-smart baby, and we're pretty sure she's going to grow up to be as successful as both her parents one day given she has some extraordinary skills that other 11-month-old babies would not be able to achieve so effortlessly.
Please fill in your e-mail so we can share with you our top stories!