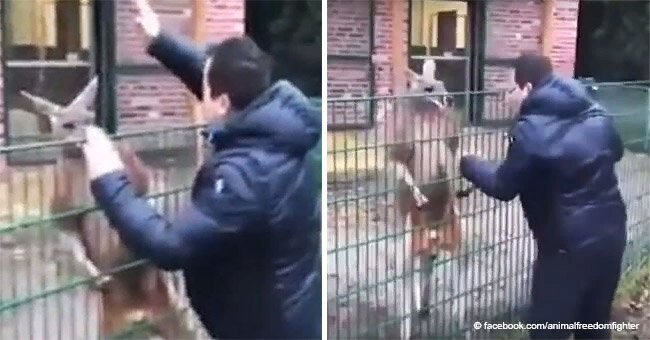 Disturbing footage of 'brave' man mocking kangaroo caged in a zoo

A televangelist, Tuncer Ciftci, was caught on camera trying to punch a kangaroo in a zoo and the netizens are not happy with his actions.
The 1.14-minute-long video, uploaded on YouTube, captured the man's attempts at a Turkish park on July 30, 2018,
Those visiting the zoos remember boards that urge them not to harass animals and to protect them from stress.
Read more on our Twitter account @amomama_usa.
However, this warning was disregarded by a controversial Turkish televangelist, according to Daily Mail.
The video shows the "self-styled prophet" attempting to punch the caged animal, mocking, and scaring the poor kangaroo.
The animal does not react and is seen standing near the cage dodging the punches. The outrageous efforts do not seem to stop throughout the video.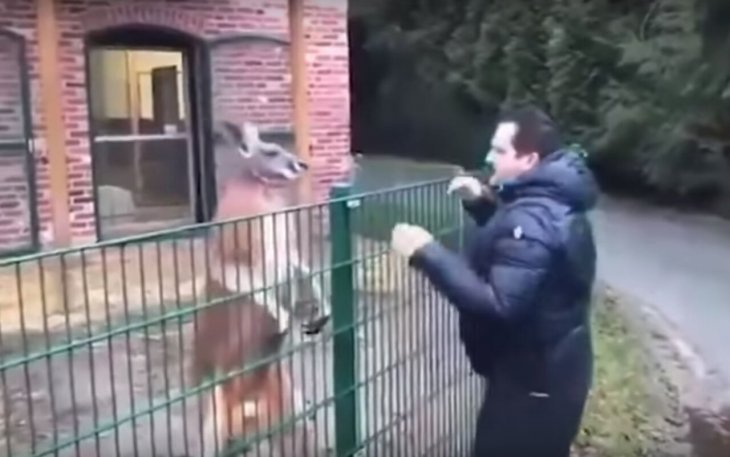 Source: YouTube / Guchie Vee
The man continues to mock the animal behind a metal fence, throwing punches at the frightened kangaroo.
As the action continues, Cifti seems frustrated with his failed attempts. At one point the man grabs the top of the fence in an effort to head-butt the marsupial.
Someone behind the camera seems to be enjoying the moment as they can be heard laughing at the stupid act. The animal stands its ground throughout dodging the attempted blows.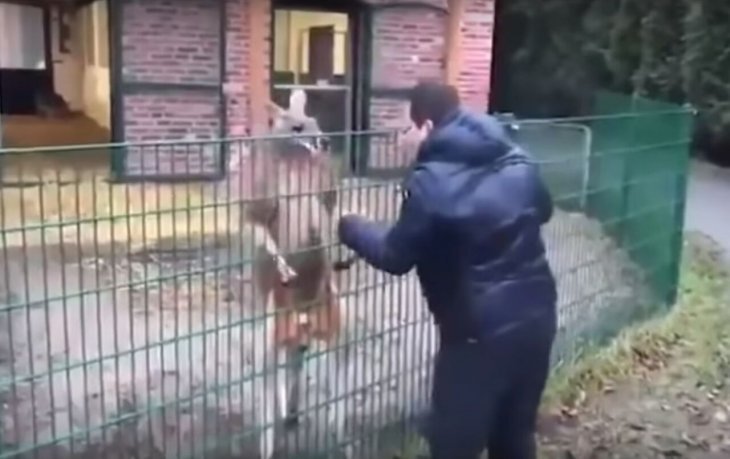 Source: YouTube / Guchie Vee
It was not known if the authorities of the facility took action against Ciftci. However, users on the internet showed their displeasure over the behavior of the religious man.
A Twitter user, Julia Fiske, hoped that a "great big kangaroo knocks you out cold." She even called him a "hideous 'man.'"
Another user, Joey, said that the animal seemed ready to "SuperKick Super Mario" if the man was not behind the fence.
Theresa opined that it was "sickening" while Elizabeth Warwick hoped he was thrown into a lions' cage.
The incident came to light a few days after an Egyptian zoo was criticized for its cruelty towards one of its animals. The authorities had painted a donkey with stripes hoping to fool visitors into thinking it was a zebra.
The Indian Express reported that the visitors were shocked to see the animal with marks drawn by paint. It was clear that the stripes were not natural due to the smudged color near its mouth and ear.
Please fill in your e-mail so we can share with you our top stories!