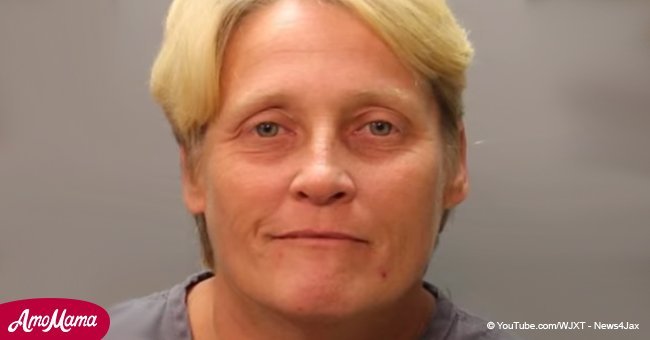 Woman caught red-handed stealing donation jar meant for family of slain 7-year-old girl

The Jacksonville Sheriff's Office arrested a woman who stole a donation jar holding about $600. She intended to use it for her crack cocaine addiction.
Tammy Wynnell Crews, 46, entered a Mexican restaurant named El Tapatio located on 103rd Street in Florida last Friday. Security videos caught her performing a shameful act.
On the surveillance recording, she is seen grabbing the large jar and putting it into her bag before promptly leaving the restaurant.
Outside cameras also caught her as she walked down the street.
The donation jar was meant to assist the family of a slain 7-year-old murdered the Saturday before in a drive-by shooting just in front of the restaurant.
Follow us on Twitter for more @amomama_usa.
Officers arrested Crews Saturday, some hours after the atrocious crime was committed. Daily Mail reports that at present she sits in the Duval County jail on a $10,000 bond.
According to the site, the police statement said that a citizen tip led to Crews' identity. A Lieutenant Bottin "spotted Crews walking in the 7500 block of 103rd Street."
"He engaged her in conversation and she spontaneously uttered that she had a 'crack pipe' on her."
The police apprehended Crews and seized the glass pipe. Officer Simpson who subsequently interviewed Crews says she "admitted that she took the donation jar and used the money to support her crack cocaine addiction."
The police charged her with felony grand theft and misdemeanor possession of drug paraphernalia.
See Crews performing the despicable act in the video below.
Source: YouTube
In June 2018, another woman was also caught red-handed stealing. This time it was groceries, and it was arguably for good reason. Police discovered that the woman had kids who were starving at home.
Instead of arresting her, the Hillsborough Police Department officers filled up her fridge so that she could feed her three adopted children. They had not eaten in just as many days because the woman couldn't work due to an injury.
Another shameful act was caught on camera back in May 2018 at the Honolulu Airport. Vanessa Marsh captured one of the airline workers dumping passengers suitcases down a chute with no regard.
Please fill in your e-mail so we can share with you our top stories!