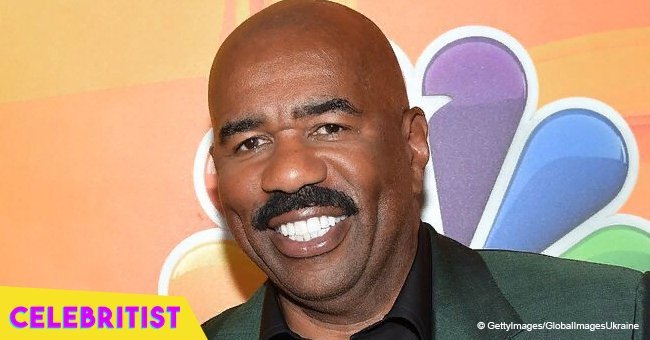 Steve Harvey gathered all his family in one photo and they are beautiful
Steve Harvey is a family man, and he's never been shy to show his affection for his big, blended family. He melted hearts with a beautiful picture featuring all his kids and their respective partners and children.
The actor wowed his fans when he took to Instagram to display a photo of his beautiful family. The proud father and grandfather made fans gush with admiration when he shared the beautiful picture.
The 61-year-old comedian has four children and three step-children from his three marriages.
He and his first wife Marcia Harvey, whom he married in 1980, had three children - twin daughters, Brandi and Karli and a son named Broderick. Their marriage ended in 1994.
He later had another son named Wyton from his second marriage to Mary Shackelford, which ended in November 2005.
Harvey married Marjorie Bridges in 2007. The fashionista and businesswoman has three children from her previous relationship, Jason, Lori and Morgan Harvey, whom Steve has been raising as his own, giving him seven children altogether.
Steve and Marjorie have always been open about the struggles they faced at the beginning of their relationship to bring their families together. Speaking to People magazine a few years ago, Marjorie admitted that:
"When you're dealing with a blended family, everyone is coming from a place of broken. We knew this was right. But I just told them, 'Everyone is included. Everyone has access to their parents. Whatever you didn't have before, don't let that interfere with what you can have now."
Now, 11 years into their marriage, Steve and Marjorie are "Mom and Dad to everybody."
In the last year, the family has expanded noticeably. Harvey is now the grandfather of four grandchildren, three from his step-children Jason and Morgan, and one from his twin daughter Karli. In the next few months, he'll become a grandpa for the fifth time when Jason's wife, Amanda, gives birth to her third child.
Please fill in your e-mail so we can share with you our top stories!