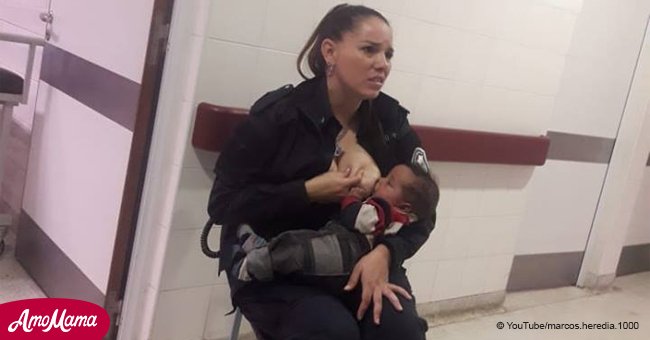 Photo of police officer breastfeeding someone else's malnourished baby goes viral
An Argentinean police officer went above and beyond the call of duty when she helped a starving baby. Officer Celeste Ayala was working her shift at a hospital last Tuesday when the baby was brought in.
Being a mother to a newborn baby herself, she didn't hesitate to offer to feed the child. Her picture, while breastfeeding, has since gone viral.
Officer Celeste Ayala was working her shift at Sor María Ludovica in Buenos Aires when a 6-month-old baby was brought in. Social workers brought the baby in with 5 of her siblings to the hospital.
All the children were malnourished and the little girl's cries moved Ayala to act. Getting permission from the hospital staff the officer started comforting the baby.
For more on this story go to our Twitter account @amomama_usa. She then breastfed the little girl until she stopped crying.
One of her colleagues took a picture of the special moment.
"I want to make public this great gesture of love that you made today with that baby, who you did not know, but for who you did not hesitate to act like a mother," said Marcos Heredia, who posted the image to Facebook. "Things like that are not seen every day."
The viral photo earned the pride of the fire department in the city of Berisso, where Ayala volunteers.
"Actions like that of this cadet fill us with pride and force us to redouble our efforts, work and solidarity with our community," the department wrote on Facebook.
Hearing of the news, the minister of security of the Province of Buenos Aires took action. Cristian Ritondo promoted Ayala from officer to sergeant a few days after the photo went viral.
Ritondo also expressed his gratitude to Ayala on Twitter with an image and a message.
He wrote, "We wanted to thank you in person for that gesture of spontaneous love that managed to calm the baby's cry."
So far, the image has received 111 000 shares on Facebook and 302 comments. Thousands have reacted to the image in positive ways.
Please fill in your e-mail so we can share with you our top stories!