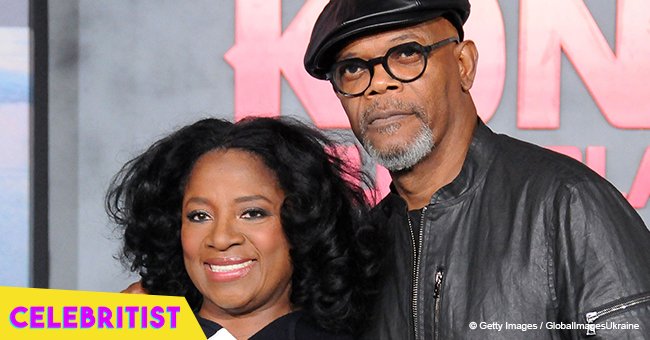 Samuel L. Jackson's wife cuddles up to husband as they rest on yacht sofa in touching photo
Actress and producer LaTanya Richardson, best known for being Samuel L. Jackson's wife, took to Instagram to share a touching photo of the couple on their anniversary.
In the image, Richardson was portrayed wearing a long multi-colored dress and black sunglasses laying on a couch while resting her head on her husband's chest. Jackson put on black shorts, a red shirt, and black sunglasses.
Both of them seemed to be taking a nap while boarding a yacht. Jackson was gently holding his wife's arm while sleeping and even placed his second hand as a pillow for her, proving how much he cares about her.
For the caption, Richardson wrote "happy anniversary," followed by several crown, black heart, and black hand emoji.
As soon as she uploaded that picture, her fans and followers took to the comment section to share their thoughts. One of them was Instagram user Carolyn Cumbus, who admitted that seeing real love was a blessing.
THE ACTOR'S FAMILY HAS SUPPORTED HIM ALL ALONG THE WAY
Black Doctor reported that Jackson has his wife to thank for getting him where he is at the moment as she saved him from being a drug addict.
When the couple's daughter, Zoe, was only eight years old, she and Richardson got in the kitchen of the family house to see Jackson on the floor surrounded by several drugs and paraphernalia. Soon after that, he entered into rehab and became a better person.
HE IS THANKFUL FOR HAVING SUCH A GREAT WIFE
Apart from being healthier, Richardson made her husband think about how his acting skills might evolve without using drugs, something that the actor later acknowledged and thanked.
"Before, I used to do stuff on stage and kinda look for the reaction from the audience – 'Aha! I got 'em good that time!' And once I was able to ignore that, and focus on the relationships with the people I was onstage with, I was finally able to blossom into whatever I might think I am now [sic]," confessed Jackson.
At the moment, Jackson is one of the most popular actors in Hollywood with outstanding roles in most Marvel movies and other acting gigs, including "The Hitman's Bodyguard," "Kong: Skull Island," and the upcoming "Glass."
Please fill in your e-mail so we can share with you our top stories!