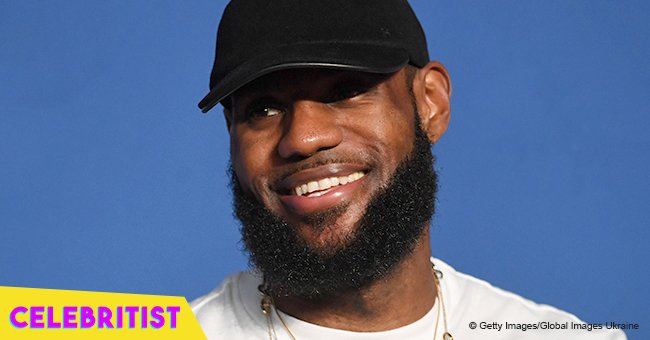 Lebron James' kids take up 'In My Feelings' challenge, showing off dance skills in new video
Bryce Maximus and little Zhuri showed their dance skills in front of the cameras once again as they took up the "In My Feelings" challenge.
Lebron James and Savannah are the proud parents of three talented kids. Lebron Jr., 13, also known as Bronny, is already making headlines for his talent in the basketball court.
Bryce, 11, is also following his brother's and dad's steps in basketball, and little Zhuri, 3, is the princess of the James' household.
The kids have earned the fans' love thanks to the pictures and videos shared by their mom on social media.
One of the most recent clips posted by Savannah on Instagram features Bryce and Zhuri showing off their dance skills as they have fun doing the "In My Feelings" challenge
It is one of the most recent social media trends that took Drake's song to the number position in the charts.
In the clip, Bryce and Zhuri seem to be hanging out with their mom in their garden while enjoying the summertime.
Both children are wearing white t-shirts and denim shorts, but Zhuri is rocking white sneakers, and Bryce preferred to stay barefoot.
"We late but whateva!! #KeKeChallenge #BryceMaximus #ZhuriNova #MyDanceMachines."
One user wrote "Check out the way she came in the scene and the hand movement at the end... cute... Bryce can certainly dance!"
Another added, "Bryce killed it and Zhuri so adorable just jumping around lol." Is not the first time this year that the siblings show off their dance moves for their mom's Instagram.
A few weeks ago, Savannah shared a clip of the inseparable kids proving they have a knack for choreographies.
They performed to perfection some dance moves from the popular video game Fortnite.
The James family is always up for a good time and it is clear that Savannah and Lebron are doing a great job raising their kids to be humble and down to earth.
In an interview with Essence last year, the 31-year-old confessed, "They're not rewarded for mediocrity. I believe that my kids can do anything they put their minds to." Savannah added:
"We are just normal people from Northeast Ohio. You can look at it as a very good thing because maybe we don't understand what we could be. But to me, that's much more stressful — it takes much more energy rather than just being yourself. And I feel like that's definitely rubbed off on our kids."
Please fill in your e-mail so we can share with you our top stories!