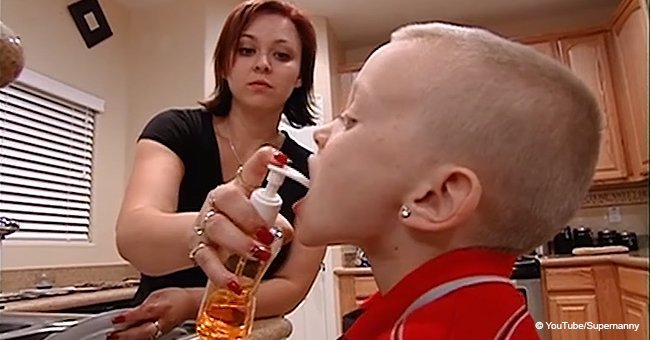 Woman forces son to eat soap after swearing

The mother in this video had enough of her young son's lying and bad words. In an effort to put an end to it, she pumped soap directly into his mouth.
Super Nanny left viewers with either mixed emotions or strong opinions about some of Jo Frost's parenting practices back in the late 2000s. But this time it was the parent who left viewers in shock.
The video shows Frost and the parents of the "naughty" boy as they viewed a clip. In it, James leaves the family's home to go to what was deemed a restricted area by his mother. When he comes back, his mother questions him about whether or not he went over the fence.
Follow us on Twitter for more @amomama_usa
James lies and says no. So does his brother Tyler. But when his mother comes near the door again, she overhears James say he went over there, referring to beyond their yard. When his mother speaks to him, James gets mixed up in his lie.
His mother takes him inside and sometime after James uses a term that is unacceptable to his mother.
When mom says, "let's go," she promptly takes James to the kitchen area. There she pumps soap into his mother. He walks away, his face squinched up in distaste.
Frost, who is usually on the receiving end of child caretaking critic, exclaims:
"Are you insane?"
But the mom defends her actions, saying it's "not that bad" and she didn't even put a whole pump but "just a little bit."
Frost then brings out the handsoap and has the mother read the labels. She explains that "turning to chemicals" clearly "hasn't worked." But it's when Frost mentions a lack of "unconditional love" that the mom immediately leaves.
The incident, which happened two years ago, continues to draw comments from appalled viewers.
The show ended in early 2011, but Frost went on to produce one season of a show called "Family SOS with Jo Frost" in 2013. This one also utilized Frost's decades-long experience in child care, but was more focused on "whipping the parents into shape."
Another case of bullying was addressed back on May 3, 2018. This time it was a mother who stood up against the actions of someone else's kids.
Although kids will be kids, she recognized that when they made fun of a deformed cashier in a store, it was completely uncalled for. She addressed them and even waited for their mom to come around and spoke to her as well.
Please fill in your e-mail so we can share with you our top stories!