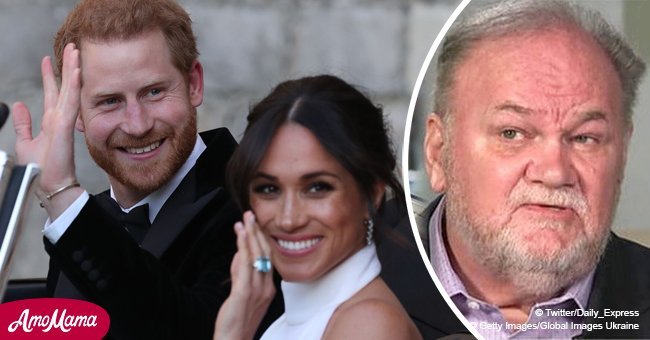 Princess Diana's ex-bodyguard condemns Prince Harry for not supporting Thomas Markle

Ken Wharfe said the newlywed couple should have seen this coming from miles away long before their engagement. He insists that Harry especially should be doing more for Thomas Markle.
In an interview with Yahoo News' "The Royal Box," Ken Wharfe, 69, dished on the reality that Prince Harry knew better, could and should have done more to protect Thomas Markle, 74.
Wharfe worked as a protection officer from 1987 to 1993 to Diana, Princess of Wales, before her untimely death.
Wharfe points out how Thomas should have foreseen the media craze:
"He's not an unintelligent guy. He's been through the mill himself, he knows what press intrusion is like. He has a drawbridge and a portcullis to hide behind when they pursue him. Thomas Markle doesn't."
Follow us on Twitter for more @amomama_usa.
Wharfe, a retired Metropolitan police inspector, is also convinced that Thomas' outbursts to the press are not entirely his fault. It is simply the "result of poor advice or no advice." Based on the royal family's past, they easily should have seen this coming for the American actress' family.
He said:
"I think the palace was at fault not to earmark this problem very early on in this engagement or even in that relationship and decide how we are going to address this with her father. These are ordinary folk, divorced living in a foreign land and suddenly their daughter's marrying a prince. This was always going to be a problem."
So what could they have done? Wharfe highlights the numerous "aides and advisors" who could have put something into place "to ensure that the rights and privacy of Thomas," regardless of his actions, and to help him along this "one in a lifetime experience."
The new Duchess of Sussex and husband Prince Harry are simply not pushing hard enough, or at all when it comes to curbing the press' relentless efforts against Thomas. According to Wharf, "Nobody's looking after him."
Thomas has a lot coming his way. Wharfe explains:
"They're going to bend his arm, there'll be the offers money, there'll be the pursuing paparazzi, the invasion and the negative reporting that we've seen. Harry could have done something about that. He may have advised palace officials, maybe he did, but he could have insisted on that. He could well have done, but for some reason, it hasn't happened."
Wharf further excuses Thomas' behaviour as simple mistakes, saying the public shouldn't dismiss him as "an ogre."
Wharf said the royal family should take preventative measures for what will inevitably happen to Thomas. "Once the fairytale moves off, the press wants the next story."
He said that the story will be around each family member of Markle. And Markle, as well as Harry, could have "softened [it] considerably."
On Doria Ragland, who seemed to have a much easier time with the press, Wharf said that she made it look easy.
"It would be very difficult for any parent outside of royalty."
Earlier this month, Meghan celebrated her 37th birthday and once again, her family members were nowhere in site. She did enjoy herself with her new family and even received an Instagram birthday post from the queen.
Her sister, Samantha Markle, was not impressed by the whole show. She lashed out and asked Meghan to at least send her father a "belated card" for his 74th.
Please fill in your e-mail so we can share with you our top stories!