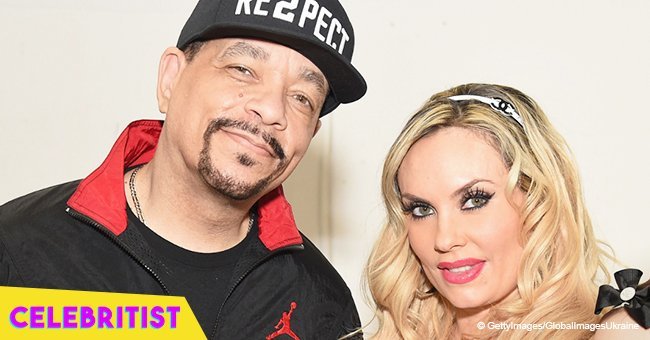 Ice-T's wife Coco reveals why she still breastfeeds daughter Chanel who is almost 3 years old
Chanel Nicole will be three years old in November and her mother, Coco Austin, revealed that she is still breastfeeding. Coco also talked about the jealous streak present in her daughter.
Ice-T and Coco Austin's cute daughter, Chanel is not tired of her mother's boob, and Coco doesn't have any problem with that. The glamour model explained during an interview that Chanel found breastfeeding soothing and used it as a comfort item:
"Breastfeeding of course, you know, when they're young, they need you for nutrition. … It's more of a blankie-type thing. Instead of her having a blanket, she has the boob."
Chanel, she said, was also very protective of the boob, displaying a jealous streak whenever any other child came near. Coco relayed:
"I don't think Chanel would like a baby sister or a baby brother. She gets jealous! Chanel gets jealous around other kids. It's so weird because, Chanel still breastfeeds, she still nurses...every time I hold a baby and the baby is close to my boob, she goes, 'My boob!'"
The 39-year-old mom also noted that while most people applauded her decision, there were others who thought she was doing the wrong thing:
"Ninety-five percent of people love the fact that I still do it. But then there's that five percent that like, want to attack. … We'll get to that point where we'll say, 'Hey, OK, it's done"
Coco has always been outspoken about her decision to breastfeed her only daughter. As far back as 2016, when Chanel was only six months, Coco declared to E! News:
"I'm kind of obsessed with [breastfeeding]"
She also posted a video when Chanel was 15 months and confirmed:
"The main question I get from women is if I still breastfeed and the answer is yes. She's 15 months and still going strong."
A more recent statement on the topic was in May when the former "Ice Loves Coco" star confirmed to a follower on Instagram that she was still breastfeeding two-year-old Chanel.
Coco is not in a hurry to see her little girl grow up, and that's all well since the former dancer has no intentions of giving her daughter a sibling anytime soon. When asked about plans for a new baby, she replied:
"No! Not at this time! She's still my baby! I think about this over and over because I love being a mom...but the way we travel is so extremely hard. …Honestly, I think our life fits one child only."
Please fill in your e-mail so we can share with you our top stories!