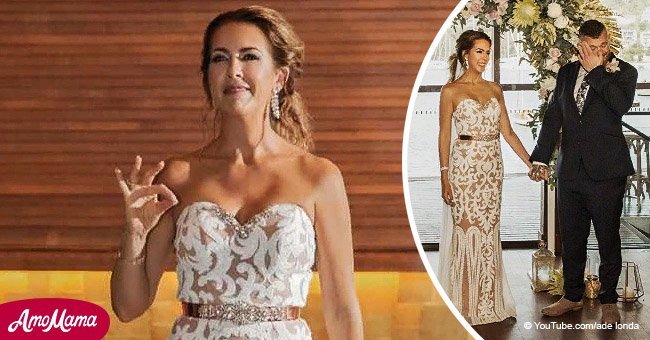 Heartwarming moment bride 'sings' emotional song to deaf groom using sign language

Elizabeth Shoesmith wanted to honor her deaf husband Scott, so she spent months learning to sign the lyrics to a song for their wedding day. When she performed in front of everyone, the tears started flowing.
41-year-old Elizabeth Shoesmith and 38-year-old Scott met two years ago before they tied the knot in early 2018. The Australian couple met on Tinder and dated for 18 months before getting married.
The pair shared a very personal and touching video on YouTube. It featured professional photography and videography. But it also showcased a heartwarming display of the connection between a new husband and wife.
Follow us on Twitter for more @amomama_usa.
In the video, Elizabeth entered a small intimate room where 45 guests plus Scott await. She was led by her 16-year-old son. Instead of walking down the aisle, Elizabeth began to sign the lyrics of Cristina Perri "A Thousand Years," to her husband Scott, who is deaf.
The video, which according to Daily Mail was viewed by over 700,000 people, shows an act of love that brings even the toughest among us to tears. Scott himself eventually broke down, dousing his eyes with a tissue as he is overwhelmed by his wife's thoughtful surprise on their special day.
Elizabeth, who also has a 19-year-old daughter was at first nervous about the daunting task. She revealed that she taught herself over a period of three months to learn the song in sign. She didn't even know sign language before they had met.
On the day of, she was a nervous wreck. She had to prepare to face Scott as well as friends in attendance who were also deaf. When the time came, Elizabeth relied on her heart to control her hands, and she managed to make no mistakes.
When she was finished, she walked up to her husband and the two sealed their unforgettable moment with a hug and a kiss. Then they remembered there were others in the room. Like Scott, their eyes were also running.
Elizabeth is the CEO of a not-for-profit organization called the "Inclusive Foundation." The aim of it is to create a world of inclusivity. But it is Scott who makes Elizabeth "feel seen and heard." And likewise, she made Scott feel the incredibly deeply loved on that day.
Earlier this year, a video of a groom singing to his wife went viral. Instead of the traditional "Here Comes the Bridge," the husband-to-be serenaded his wife with as she walked down the aisle.
And back in 2014, a heart-wrenching story of a father who lost both his wife and his newborn son a few days later emerged. Chris sang to his son Lennon James Picco while he lay in an incubator. Days before, his wife had tragically died as a result of a C-section gone wrong.
Please fill in your e-mail so we can share with you our top stories!