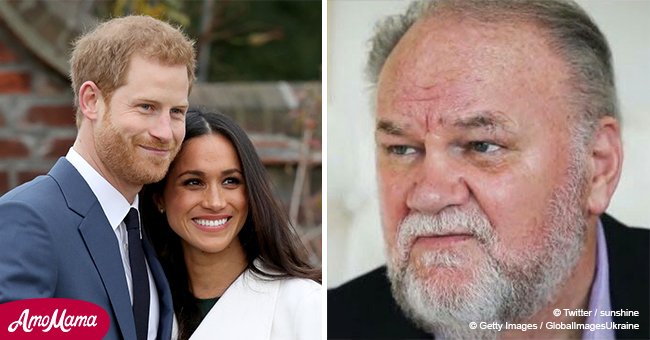 Meghan Markle's father criticizes the royal family – comparing it to scientologists
The Duchess of Sussex's father has not heard from his daughter since the day after her wedding in May, and has made increasingly desperate attempts to force her to contact him.
Thomas Markle's most recent commentary on the royal family has likened them to the Church of Scientology and "The Stepford Wives," with the same cult-like attitude to criticism from those on the outside: shutting their doors and pretending not to hear anything.
The Church of Scientology has always strongly denied that they bear any resemblance to a cult through manipulation of its members, and denied any and all claims made publicly by those that have left the religion.
"The Stepford Wives" refers to the 1970s thriller novel in which American men turned their wives into "brainwashed submissive robots."
He has suggested the monarchy should become more "modern and open to scrutiny," and should answer when people ask questions of them.
He was even previously reprimanded by Harry for the staged paparazzi photos before the wedding, but has continued to collaborate with the media at every opportunity.
Markle has been met with silence both from the official communications of Kensington Palace, and from Meghan herself since he started openly criticizing her in the media.
In the three months since Meghan and Harry's wedding, Markle claims he has done everything he could think of to try and encourage his daughter to contact him.
Some reports have suggested that he is only trying to get in touch with her in order to try and get money out of her, but he has denied these claims.
"I worked hard to provide for my children. I'm their father, I don't expect them to pay me back," he said.
Somehow, he can't seem to understand why his youngest daughter refuses to speak with him while he continues to criticize her in every interview he gives to the press.
An unnamed source close to the Duchess has explained that this behavior from the retired Hollywood lighting director is sadly nothing new.
"His behaviour is something she has had to deal with for most of her adult life. There has been a long history of 'dad disappointment' with her life being splattered with upset because of her relationship with him. She isn't shocked or surprised by his behaviour and dealt with it all with a lot of grace," the source said.
Markle is not the only one to criticize Meghan in recent months, with her half-sister, Samantha Grant, taking regular shots at the Duchess on Twitter.
Her brother, Thomas Jr., has also complained that the royal family has not been as accepting of Meghan's family as they were of the Duchess of Cambridge's family after Catherine married Prince William in 2011.
Please fill in your e-mail so we can share with you our top stories!