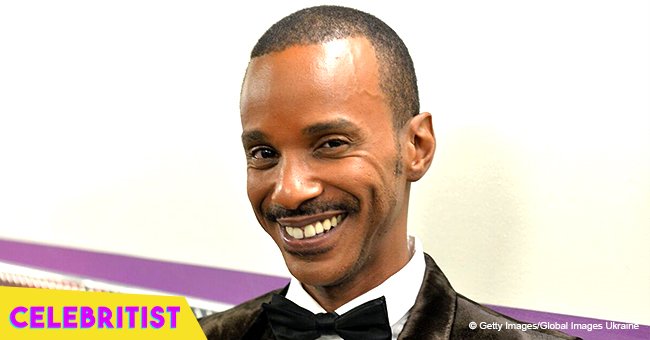 'Trysexual' singer Tevin Campbell is the spitting image of his mother in rare photo together
R&B superstar Tevin Campbell recently took to Instagram to share a throwback pic with his gorgeous mother. The singer has been away from the spotlight in the past years, but after Quincy Jones mentioned him on his infamous Vulture interview, the man has been making headlines once again.
Back in 2003, Campbell surprised the world when he labeled himself as "try-sexual." Now, decades after he pressed pause on his career, he's discovering once again the love of his fans through social media, where he pays their affection back by posting beautiful pictures of his life.
A few months ago, the "Can We Talk" singer shared an excellent picture with his mother, Rhonda Campbell, who was celebrating her birthday. In the old pic, daughter and son look very alike, and fans were amazed by the similarities between them.
While Campbell was rocking a purple jacket with a glittery black top underneath, her son looked amazing in a grey turtleneck and a coat of the same color. "#happybirthdaymama Happy BD to this pretty lady, my mama @waxahachie72. Love ya mom!!!," he captioned the picture.
The 41-year-old singer was filled with lovely comments from fans. One user wrote:
"She is beautiful, I see where you get that smile from. I hope she had a great celebration!!"
And another added,
"Happy birthday to your mama I know you sung her a beautiful happy birthday song with your amazing voice."
A third one said:
"Happy Birthday to your beautiful Mom. I love this photo and many thanks to this special lady for sharing you with us."
A few years ago, Tevin made a surprising revelation when he admitted he wasn't gay but was "trying a lot of things." He explained he wasn't exclusively attracted to men, but when asked if he identified as bisexual, he said no. Instead, he coined the term 'TRY-sexual' to describe himself and his sexual activities.
"I'm trying a lot of things. Being open-minded. It has nothing to do with attraction. It's just having fun, and I did a lot of that on the road with dancers."
Since then, Tevin has been keeping a low profile in the entertainment industry, only appearing in Broadway and making sporadic performances.
QUINCY JONES AND MOLESTATION RUMORS
However, last February his name became viral once again after Quincy Jones' controversial interview with Vulture. For some reason, there have been rumors swirling around about Jones molesting Tevin when he was just a kid. And when asked about underrated singers, Jones named Campbell among others.
Tevin decided to put the rumors to rest for once and for all, so he took to Twitter to laugh it off and call out the talks "disgusting." He even tweeted a phrase said by Jones, proving that their relationship was on a good note, as usual.
"Now Im trending folks will really say some disgusting things. Tevin was molested by Quincy'…GTFOH wit the devil."
Sexuality and molestation rumors aside, Tevin's career in the music industry has been characterized by his incredible vocal range. His debut album 'T.E.V.I.N' was certified platinum and in 1991, earned him a number six spot on Billboard's Hot 100 for the track "Tell Me What You Want Me to Do." His second album 'I'm Ready' was certified double-Platinum, and it contained two of the singer's most popular songs, "Can We Talk" and "I'm Ready."
Earlier this week, after the news of Aretha Franklin's passing, shook the world, people on the web started to wonder what artist will be fit to pay tribute to such an iconic singer. Tevin's name came into the discussion after a rude woman referred to the man as being "pulled out of a rock."
Thousands of fans came to the rescue, showing their love, support, and admiration for Tevin, who's allegedly working on music to release another album, once again. Read some of the comments below:
Please fill in your e-mail so we can share with you our top stories!