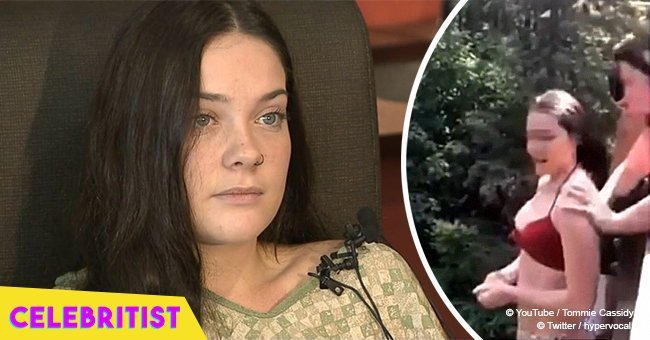 Teen pushed from bridge by a 'friend' speaks out
Jordan Holgerson, the 16-year-old teen who was pushed off a bridge and sustained several injuries, talked about the awful experience from the hospital.
In an interview Holgerson had with KGW8, she revealed that she joined a group of friends who went to the Lewis River in Moulton Falls, in Washington. One of the principal activities people do there is jumping from the bridge located 60 feet above the water.
While the entire group was surrounded Holgerson, she was getting ready to jump. However, she apparently was taking too long to jump, so one of her "friends" pushed her.
The video of the incident revealed how the girl frantically moved her arms and legs to be in a better position before hitting the water, but she just couldn't do it.
After a few seconds, a loud splash was heard and the video ended. After being dragged out of the water, Holgerson was taken to the Peach Health Southwest Medical Centre where it was determined that she broke five ribs and punctured one of her lungs.
Apart from that, she had air bubbles in her chest, scrapes, and bruises from the strong impact when she hit the water from such a high spot.
"In midair, I think I might've blacked out. I was awake and aware when I hit the water. It could've ended a lot worse [...] Just make sure you know what you're doing," revealed Holgerson.
AN APOLOGY IS NOT ENOUGH
The teen revealed that the "friend" who pushed her apologized for doing such a dangerous thing. However, Holgerson admitted that a simple apology was not enough and that she was going to be more selective about her friends.
Days after the incident, the name of the person who pushed Holgerson, Taylor Smith, was revealed. The victim confessed that she didn't want Smith to get in trouble in the few days following the incident. Now that she has thought about it more carefully, she considers that the 18-year-old girl should go to jail for what she did.
Smith admitted that she felt "really bad" about what happened and that her intention was never to hurt her friend. The investigation is now under the Clark County prosecutor's office, and Smith could face criminal charges.
Holgerson added that one of the reasons why she was so angry with Smith was that she would spend the rest of the summer, and probably a lot of the school year, recovering from her injuries.
JUMPING OFF THE BRIDGE IS PROHIBITED
Even though the bridge in Moulton Falls Reginal Park is surrounded by signs that state that jumping from it is banned, several people still do it at their own risk.
Due to the prevalence of residents jumping into the Lewis River, the Fire department regularly provides training in water rescue.
Please fill in your e-mail so we can share with you our top stories!