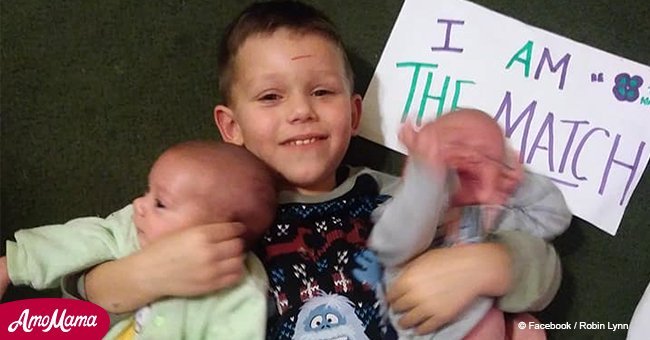 Newborn twins suffering from rare condition saved by 4-year-old brother
Twin babies, Santino and Giovanni, who were born premature and later diagnosed with a rare genetic condition, were given a chance to live a happy life with their family when their courageous four-year-old brother decided to save their lives.
The twins were born at 33 weeks on October 14, 2017, and spent the first five weeks of their lives in the NICU.
The babies were diagnosed with the chronic granulomatous disease (CGD), a rare immune disorder, ten days after they were sent home. CGD can only be treated with a born marrow or stem cell transplant.
Read more on our Twitter account @amomama_usa.
Robin Pownall, a Philadelphia mother of four, regularly shared updates on her Facebook page about her twins' progress and her brave little son Michael.
Michael selflessly agreed to go through the surgery after his mother told him that he had matched with the twins for the bone marrow transplant.
"I'm gonna give them with my bone marrow!" Michael said, according to Love What Matters.
His mother said that the family was upfront with him about the surgery, explaining to Michael that the operation may involve a big needle and he might be hurt because of it. But Michael was brave and stood his ground.
Robin spoke to WTXF News about how her son was always willing to go the hospital to get all his tests done before the surgery.
Even though the little boy was scared of going through the surgery, which was scheduled for March 8, 2018, he still went through with it. Robin was moved by her son's willingness to go to such an extent for his brothers.
On March 8, Michael had his bone marrow cells extracted at the Children's Hospital of Philadelphia. Hours later when the doctors carried out the transplant on his four-month-old baby brothers, Michael kept yelling, "That's my bone marrow!" according to NTD TV.
The babies were kept under observation at the hospital for almost two months after the transplant.
When it was time for the family to take the twins home, Michael wore a Batman T-shirt to the hospital and told the twins that he had saved them and now it was time for the twins to go back home.
Robin and her fiancé had to quit their jobs because she had to be at the hospital with the twins, while he had to stay at home to watch over Michael and Dominick.
Robin's sister, Casey Pownall had created a GoFundMe page for the couple to help raise the money needed to cover their medical bills. $31,135 were raised for the family with donations from 590 people.
Four-year-old Michael might look like any other little boy. He loves to toys and plays with his older brother Dominick.
But Michael has done a very special and extraordinary thing to save his brothers at such an age.
Another baby was saved by a photographer when she noticed something in her eyes.
Presley was diagnosed with eye cancer after Alessia, a photographer, noticed that the baby's one eye was white in the picture that she had taken and immediately alerted her parents.
Alessia had clicked the photo of the then seven-month-old Presley during the family's trip to Tenerife in January 2017 and warned Presley's parents, Sophie Findlay and Darren Marshall, that she may have cancer.
The Daily Mail reported that the family left Tenerife the next day and arrived at Jarrow, South Tyneside and took their baby to Sunderland Eye Infirmary, where the doctors found that she was, in fact, suffering from retinoblastoma, a life-threatening eye cancer.
Presley then had to undergo chemotherapy and lost her sight temporarily. She is now expected to make a full recovery.
In another heart-warming story, a nine-year-old Bailey Cooper, diagnosed with terminal cancer in the summer of 2016, was told that he would not be able to live long enough to see his baby sister being born, survived long enough to hold his sister for the first time.
Bailey, from Bristol, fought to survive Non-Hodgkin lymphoma, a type of cancer, for 15 months, according to the Daily Mail.
Despite being diagnosed with the terminal disease, Bailey continued to be positive and loving towards his family and even told his parents that they were "only allowed to cry for five minutes."
Bailey's sister was born in November, and he named her Millie. "It got to the end of November, and Millie was born. He hugged her and did everything an older brother would do - change her, wash her, sing to her," his mother said.
The little boy was taken to the hospital on December 22, 2017, and he passed away on the Christmas Eve with his parents sitting at the bedside.
Please fill in your e-mail so we can share with you our top stories!