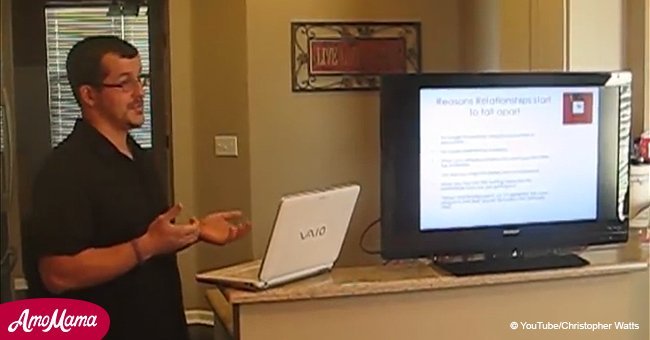 Man accused of murdering pregnant wife and children made a video about saving relationships
A man named Christopher Watts was accused of murdering his wife and two daughters. A video of him in 2012 talking about rescuing relationships recently surfaced.
The nine-minute YouTube video showed Watts giving a PowerPoint presentation that he called "Communication Speech, Relationship Deterioration, and Repair."
He said in the clip, "Sometimes you find your partner no longer attractive physically or in their personality."
"When you are in a relationship you have to show desire, lust toward your partner. Sometimes when you get married that the lust and the desire kind of fall by the wayside a little bit," added the suspect.
Follow us on Twitter at AmoMama USA for more details and updates.
WATTS SAID INFIDELITY RESULTS TO SEPARATION
Watts began the presentation by stating the presentation was for a course he was taking.
He started to talk about infidelity, pointing out that it could be with someone from work, as a reason why relationships don't work out.
Denver police have revealed that Watts was actively having an illicit affair with his colleagues before his arrest in allegedly ending the life of his wife, Shanann Watts, and their two daughters.
Watts did not enter a plea to murder and other felony charges, according to FOX News.
THE MURDERS
Court documents showed that Watts asked his wife to separate on August 13.
Talking to investigators, Watts said he killed his wife after he found out that she strangled their daughters, three-year-old Bella and four-year-old Celeste, after they talked about Watts wanting to separate.
Watts, who worked at Anadarko Petroleum, was arrested on August 15. He also got fired on the same day.
According to an arrest warrant affidavit, Shanann's lifeless body was found about 65 kilometers away from their home in a shallow grave.
As for the two girls, their bodies were discovered from oil tanks also close to the house.
SHANANN WAS ALREADY FRIENDS WITH WATTS IN 2012
In the YouTube video, Watts was citing out steps to save a relationship and make it stronger.
Although Shanann was not seen in the clip, there was a comment from her, saying "Great job Christopher! Good information!"
At the time, she was using the last name King, which was her previous husband's name. She was divorced from the man in 2009, some years before she and Watts got married.
In other news, police have been asking help from the public to pinpoint the location of a serial killer, who they believe is connected to a series of murders in Houston.
Please fill in your e-mail so we can share with you our top stories!