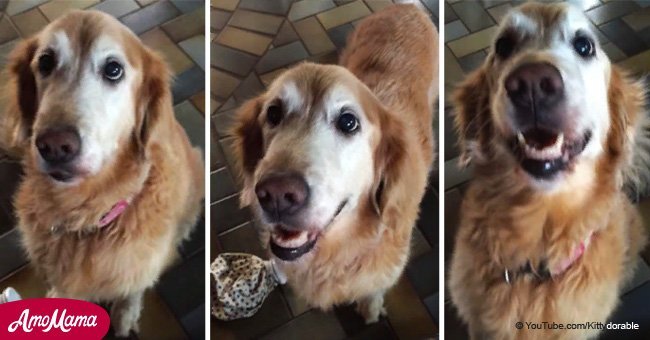 Dog reacts to being told she's cancer-free

A golden retriever leaps for joy after finding out she doesn't have cancer
Lily is a Golden Retriever, and to her owner's distress, she suddenly became so ill she couldn't stand on her own four feet, now she is healthy again and her owners shared a touching video on Instagram.
Her owners took her to the vet and were told that Lily was bleeding internally and would die without an immediate blood transfusion.
Worse was to come when doctors diagnosed Lily with a Hemangiosarcoma, a spleen tumor that is common in Golden Retrievers.
The only way to stave off immediate death was to remove the tumor, but even then her survival would be measured months.
"She was bleeding internally, and so anemic her breathing was affected she needed a blood transfusion or she would be dead in hours."
Desperate owners agree to surgery, but will Lily live?
Lily's surgeon explained to her owners that in 25 years of practice she had not seen one of these tumors that were not cancerous.
Nonetheless, they drained their savings and had Lily operated on, and the doctors removed a tumor weighing nearly 3 kg from the dog's body.
Doctors cautioned the owners that Lily would eventually die of cancer. The possibility that the tumor might be benign was infimal, Lily's chances were less than 10%.
Read more about Lily on our Twitter account @amomama_usa.
A doggy miracle!
To her owners' joy, the results of the lab test to the excised tumor came back: It was benign, Lily would live.
The happy woman broke the news to Lily, asking her to sit down for the results which the dog did.
Then as her owners told her she was cancer free, the dog expressed irrepressible joy, waving her tail and smiling a huge doggy smile, and hopping happily on the spot.
Lily beat the odds!
According to statistics and veterinary records, Lily is the first dog in 25 years to have a benign Hemangiosarcoma.
Lily's owner posted the video to share her happiness at her furry friend's survival and also to encourage other people whose dogs have cancer not to give up.
Her video has had nearly 500 million views and hundreds of thousands of comments and shares from people who had also lost their pets to this disease.
Some made the same choice, opted for surgery, and had good results. Lily has given hope to millions of people faced with dealing with their pet's cancer.
If you like this adorable doggy story, read the following article.
Dog sneaks into swimming pool and gets caught by owner [video]
Please fill in your e-mail so we can share with you our top stories!