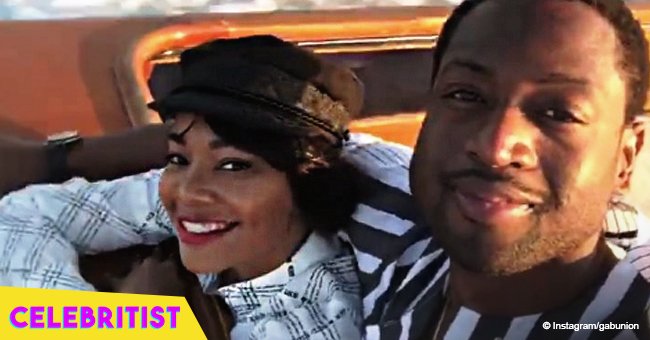 Dwyane Wade throws shade at former teammate's flirty comment on wife Gabrielle Union's photo

Miami Heat star Dwyane Wade, who has been married to actress Gabrielle Union since 2014, recently threatened his former teammate Jimmy Butler on Instagram.
A photo uploaded by The Shade Room showed the comment that Wade wrote on one of Butler's post, setting clear that he didn't like one of Butler's messages on Union's Instagram.
The dispute began in mid-August when Union shared a picture showing herself getting out of a swimming pool wearing a black crop-top and a black and gold thong as the lower part of her bathing suit.
Butler took to the comment section and wrote "WELL DAMN." While it might have been a joke, Wade didn't like it at all and went to Butler's Instagram account to let him know so.
Wade did it in a video that Butler uploaded on August 17 showing him training at the beach with a group of friends. In the caption, he wrote "The good, the bad, and the ugly."
DON'T GO THAT FAR WITH WADE'S WIFE
As for the threat, Wade wrote: "Put well damn in caps on my wife's photo again and you're gonna see what the good, the bad and the ugly is like [sic]."
Even though it is not known whether or not Wade was joking, Butler understood the message as he replied: "well that escalated quickly. Point noted.. I'm still coming to the bbq tho [sic]."
THE COUPLE'S RECENT VACATION
As part of their "Wade World Tour," Wade and his beautiful wife cuddled up beside one another and enjoyed a breezy day off in Venice. In a sweet video shared on Union's Instagram account, the couple could be seen very happy next to each other.
Wade put on a striped black and white shirt while Union was wearing a white shirt that had several phrases written on it, as well as a black hat. Both of them were looking at the camera while on board a boat.
THEIR STRUGGLES AT HAVING CHILDREN
Even though Wade and Union have been together for four years, they have not had any children. The 45-year-old actress revealed that she has a condition called adenomyosis (the inner lining of the uterus breaks through the muscle wall of the uterus.)
Given the fact that she has had that health problem since she was 20, Union has endured a couple of miscarriages, and she has not gotten pregnant even after trying through In Vitro Fertilization, previously reported Celebritist.
Please fill in your e-mail so we can share with you our top stories!