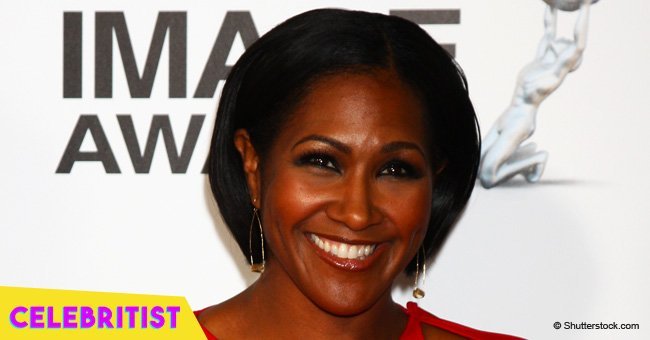 Terri J. Vaughn faced tough odds when she got pregnant at 44
Terri J. Vaughn, better known for playing the role of Lovita Alizé Jenkins-Robinson in "The Steve Harvey Show," got pregnant again at the impressive age of 44 and she was over the moon.
Terri Juanita Vaughn is a 48-year-old actress, producer, and director, from San Francisco, California. She started her career in 1993 with several small roles on series like "Living Single," "Married with Children," "Family Matters," and films like "Friday" and "Don't Be a Menace to South Central While Drinking Your Juice in the Hood."
Her performance on "The Steve Harvey Show" from 1997 to 2002 was so memorable that she won three NAACP Image Awards for Outstanding Supporting Actress in a Comedy Series.
A year before the end of the show, Vaughn had her first child, son Derrick Carolina with ex-husband Derrick Carolina. The couple were together for six years and got divorced in 2005. Three years later, she married professional football player Karon Riley.
The same year, their son Kal-El Joseph was born. And while fans, family, and friends thought Terri was done with motherhood, she surprised everyone in 2014 when she announced her third pregnancy in her mid-forties. The actress was featured on an episode of Cocoa Fab's web series "Organized Home," where she planned a garden party to tell her friends the good news.
At the time, Vaughn said:
"I feel so excited to be able to grow our family and bring another life into the world. Mentally, physically and spiritually I feel grounded and ready to receive this blessing! I'm grateful to be chosen by God to be a mother."
Her daughter, Lola Riley, was born without any incident and considering that most women who experience pregnancy after their forties have lots of risks and complications, Vaughn was undoubtedly lucky. Other celebrities who have become moms after 40 are Kim Fields, Halle Berry, Mariah Carey and Nia Long, among others.
LOLA IS A LITTLE ACTRESS
Lola is now an adorable 4-year-old that can be easily spotted on her mom's Instagram account. The proud mom couldn't be happier with her family, especially with the little joy that is Lola.
In a pic shared by Vaughn last June, Lola is seen wearing a pink ballerina dress and tights as she cutely poses on the floor with a magic wand in her hand. She also posed with her entire family while showing off her bright, adorable smile.
Vaugh captioned the pic:
"Grateful for this little one #Lola who keeps our family on our toes with excitement, celebrations and experiences. A family affair at her Ballet Camp Summer Show. #Family#shebelievedshecouldsoshedid #grateful swipe."
At her age, Lola is already following her mother's steps into the film industry. Terri shared a pair of pictures of the little girl recording something on set while laying on a bed. The actress explained that, since her kids enjoy a luxurious lifestyle, they have to help maintain it.
"Putting these kids to work! They got expensive habits! #Lola#MakingMovies #BTS #Setlife #Swirlfilms."
GIVING LOVE A SECOND CHANCE
Terri Vaugh has a gorgeous family, and after her first marriage failed, the actress revealed to Essence a few years ago that the experience helped her to grow a lot. As for advice for women who want to give up on love because it didn't go well the first time around, she said:
"Do you love yourself? Have you created a life for yourself using your own talents/gifts? Does the mate you have chosen support and celebrate who you are right now? Are you grounded spiritually, emotionally, financially? If so, don't be afraid to take the plunge, again. Love can be better the second time around."
Please fill in your e-mail so we can share with you our top stories!