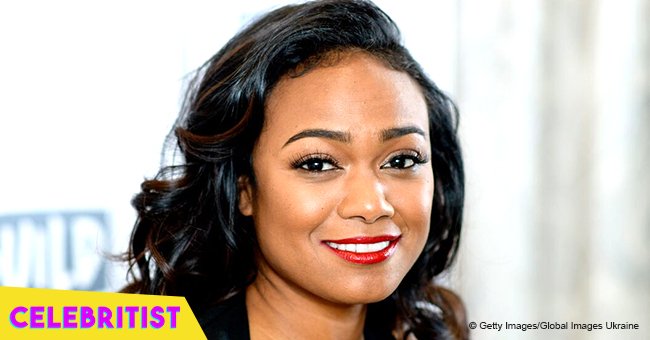 Tatyana Ali proudly shares breastfeeding picture with her 1-year-old baby for a good cause

Tatyana Ali takes a moment to pay tribute to Black Breastfeeding Week by sharing an intimate photo of herself feeding her son.
August 25 to August 31 is Black Breastfeeding Week and one of the stars giving importance to this occasion is Tatyana Ali. Kicking off the week, she shared a photo of herself breastfeeding her son Edward in the hope that others are inspired to give their children the same kind of dedication to their children's nutrition.
Black Breastfeeding Week was first launched in 2013 by nurse-midwife Anayah Sangodele-Ayoka, founding executive director of Black Mothers' Breastfeeding Association Kiddada Green and author Kimberly Seals Allers. Together, they hoped the week would bring to attention the importance of breastfeeding especially for black mothers whose infants are more than twice likely to die compared to white children. This year's theme was lifted from Beyonce's song "Love on Top." Seals Allers explains,
"Love is at the core of mothering, it permeates everything we do from making a commitment to breastfeed to how we cope with parenting challenges, even loss. In motherhood, in breastfeeding, and in life, anything can be overcome when we put love on top."
Among the black mothers celebrating the joys of breastfeeding this week, Tatyana takes the lead sharing a beautiful photo of herself taking her breast to her son. She sat on a couch wrapped in merely a towel as her son peacefully sucked into her breast. Tatyana stared lovingly at her toddler who partook in the miracle of human nurturing. In her caption, she sends out a powerful message.
"The more we see ourselves in each other, the more courage it builds in us to trust our hearts and our bodies. Be kind to yourself. #blackbreastfeedingweek#breastfeedingweek#breastfeedingweek2018#normalizebreastfeeding"
Edward is Tatyana's only son with her husband Vaugh Rasberry. The couple welcomed him on September 2016 just months after they tied the knot in July. A month into motherhood, Tatyana opened up about the highs and lows of raising a child and revealed the challenge she faced breastfeeding her son after making the decision to breastfeed him solely.
"You know, it's something that is not necessarily instinctive like there are messes and there are different techniques and styles. Then you have to learn the style of your baby and how much they want to eat. The learning curve has been huge."
Tatyana also revealed she got a lot of help from her husband who does diaper duties while she does feedings.
As for her parenting style, she describes herself as laid back but intends to teach her son the truth about his heritage. The "The Fresh Prince of Bel-Air' star is of Panamanian and Trinidad descent. She grew up being called names based on her race and wants her son to feel safe and loved in his own skin.
Tatyana also hopes to one day provide Edward with the best education. Her husband is an English professor at Stanford and she is a Harvard degree holder. She values the benefits of education and sees her curious child will also benefit from it.
In the meantime, Tatyana is content with providing her child with the best nutrition she can give while enjoying his growing years. In June, she shared a lovely photo of her son and his father in celebration of Father's Day. The black and white snap represents everything Tatyana lives for today. Love is her motivator and her love for family stays on top.
Please fill in your e-mail so we can share with you our top stories!