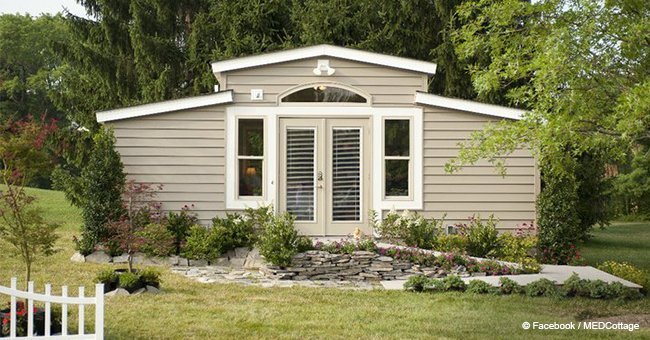 Backyard 'granny pods' are new high-tech alternatives to nursing homes
MEDCottage or a "granny pod" is a high-tech backyard cottage where elderly family members can live comfortably.
The units, which can cost up to $125,000, can be installed in a backyard for the seniors to stay close to their families, according to MEDCottages.
The "granny pods" are pre-fabricated and pre-equipped, and can be connected to the existing sewer, water, and power lines.
Read more on our Twitter account @amomama_usa.
In essence, the tiny homes are a moveable hospital room. A company in Blacksburg, Virginia, designed the pods with help from Virginia Tech.
It seems a perfect abode for the elderly with some sophisticated medical equipment. The pods are ADA compliant, which means there is enough room for a person to go around in a wheelchair.
It is also equipped with a virtual companion which will talk to the elderly and inform them if "it's time to take your medication."
There are safety features which include hand railings, defibrillators, first aid supplies, lighted floorboards, and a soft floor to minimize damage if there is a fall.
The 12 by 24 feet cottages cost anywhere between $85,000 and $125,000. A unit is the size of a spacious master bedroom along with double French doors to add an attractive touch.
The granny pods are available in three styles: MedCottage, Classic, and Grand.
According to the American Association of Retired Persons (AARP), there are about 23 million Americans who take care of their elderly parents.
The country's elderly population will double in the coming decade, while a survey conducted by AARP revealed that the elderly would prefer to live at home or with family.
Besides, nursing homes do not always provide the best options for the aging parents from a financial standpoint.
A man in Florida built a "tiny house" for his aging father so he could continue to live alone after his retirement.
Josh Wynne wanted to help his father without taking away his independence. He built a perfect, eco-friendly house that Mike Wynne could easily maintain.
The 604-sq-ft home features a bedroom, a bathroom, and a comfortable open kitchen and living area. Josh calls it "Mike's Hammock."
Please fill in your e-mail so we can share with you our top stories!