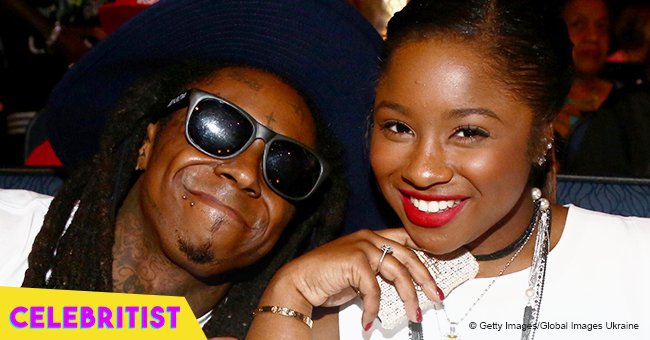 Reginae Carter stuns in Fendi outfit in recent picture with dad Lil' Wayne

Reginae Carter has been blessed with all the good things in life, and she flaunted this in a recent picture with her dad. Aside from their tight-knit relationship, her dad also showers her with all the best designer clothes that she could wear on a normal basis.
In the father-and-daughter duo's most recent snap, Reginae could be seen flaunting an all-Fendi outfit that must cost a fortune. She draped her body in a loose Fendi jacket and wrapped a belt bag around her waist. She covered her eyes with a pair of oversized sunglasses as she smiled beside her dad.
Meanwhile, Lil' Wayne kept it simple in a printed white shirt and a white polo with caricatures printed on it on top. On his head, he wore a pink cheetah-printed turban that covered some of his golden dreadlocks.
Recently, Reginae was the talk of the town when she defended her father against online haters. When a video of Kanye West and Lil' Wayne emerged online of the two of them chilling in 2 Chainz and Kesha Ward's wedding, fans were quick to criticize him for his hair, clothes, and even his looks.
After the heavy flow of hate comments thrown at the rapper, it's no wonder he's tried to keep his private life out of the media and has chosen to stay low key. However, his daughter made sure to come to his rescue and let his haters know that they were wasting their time.
"Wayne don't give a damn about ya'll got to say so save the comments. Thanks."
Lil' Wayne is Reginae's best friend, and she will do anything to protect him just as he would do for her. Aside from clearly having each other's backs, it seems the famous rapper has taught her daughter a thing or two about being humble about what God has given them.
In a photo she posted, it read: "Talent is God Given, be grateful. Fame is man given, be humble. Conceit is self-given, be careful.". Her caption states that her dad taught here these, proving that the two of them not only share the same blood but the same values, too.
The Carters get a whole lot of hate from online critiques for many reasons, but what keeps them strong is the love they have for one another. At the end of the day, they focus on what truly matters and that is each other.
Please fill in your e-mail so we can share with you our top stories!