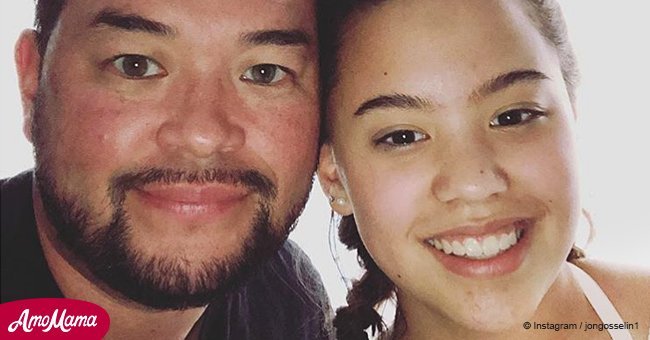 Hannah Gosselin met the new school year away from her sextuplet siblings

Jon Gosselin posted a picture of daughter Hannah as she headed out to her first day of school without the usual company of her sextuplet siblings.
Jon, 41, included a heartfelt caption in the post displaying how proud and happy he was about his daughter's accomplishments and her first day of 8th grade.
"Congrats Hannah on your first day of school, proud of you. I admire your bravery starting fresh!!! I Love you very much and we have worked really hard to get here. Dedication has really paid off."
Follow us on Twitter for more @amomama_usa.
The post comes just days after Jon's ex-wife Kate posted a contrasting photo which included six of the eight children the former reality stars share.
In it, the rest of the 14-year-old sextuplets are donned in uniform along with their twin sisters. Aaden, Joel, Alexis, and Leah smile for the camera with 17-year-olds Mady and Cara.
Kate's followers expressed curiosity about the two missing siblings Hannah and Collin. Kate didn't respond, but this new post of Hannah makes it clear that she has broken away from her usual company to tread new territories.
Jon cemented the idea that Hannah is entering a different school in the rest of his caption:
"I'm so happy you integrated yourself into the community, you made friends all summer and now you will grow and graduate with them. I'm honored to be your father!!! Love you, Dad #newbeginnings."
Fans may still be wondering where the last sextuplet, Collin, is. According to People, he actually lives separate from his family at a special needs facility aimed at reaching students' full potential.
Meanwhile, Jon's claim last year that Hannah is living full time with him have become more substantiated with this Instagram post. But the supposed arrangement is still being denied by Kate.
The 43-year-old divorcee plans to return to TLC with her new show "Kate Plus Date," in hopes of finding new love after her split from Jon back in 2009.
Please fill in your e-mail so we can share with you our top stories!