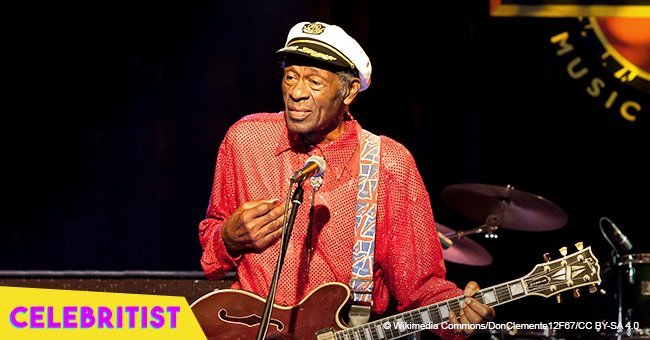 Remember music legend Chuck Berry? The star's only son is his carbon copy and continues his legacy

Chuck Berry's music was nothing short of legendary, and the Rock 'n' Roll genre lost one of its pioneers when he died in 2017. His only son, Charles Berry Jr. continues to walk in his father's footsteps and revealed what it was like growing up as the legend's son.
Charles sat down to an interview with Rolling Stone shortly before his father's death and dispelled the notion of a musician's kids being star-struck. According to him, the "Eyes Of Man" singer was most importantly, his father:
"My only perspective is Chuck Berry being my father. I have no other frame of reference. …When I was growing up as a kid. ...He'd be out of town for weeks on end at times. And all the kids knew when he would come home because there would be bags and bags and bags of White Castle hamburgers. …Everyone would say, "Your dad's so cool!"
Charles disclosed that even though he performed with his dad's band as a guitarist, it was not his first choice. It took the death of his father's guitarist to get him on stage.
Charles would eventually understand how the "Darlin" hitmaker must have felt when he witnessed his own son's talent:
"My son and I went to Nashville. It was the first time I'd recorded in a studio – same with my son. ...My son blew his solo out of the water. The grin on my face was obvious. ...And I think I understand how my dad may have felt when I started playing with him."
Chuck's last record hit the UK Top 10 chart after the icon's death and his work ethic at an advanced age and despite having to familiarize with new technology, remains an inspiration to his son. Charles recalled:
"He would go down into my parent's cellar with his studio that was at the house and then come up the next morning and have my mom take a listen, or have myself or my sisters listen to it. It was just a privilege to see him at work. My dad went from the single track era where the entire band is in the room together recording to ProTools where you can manipulate the entire song if you really want to. I am not going to say my dad was a master in the digital environment, but he was good enough to press record and just start playing."
Please fill in your e-mail so we can share with you our top stories!