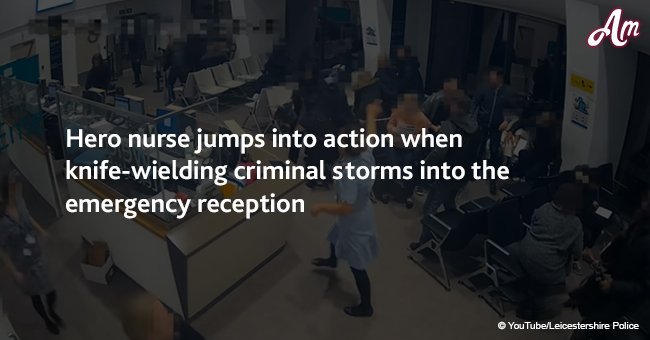 Hero nurse jumps into action when knife-wielding criminal storms into the emergency reception
In a scene fit for a thriller film, a nurse from Leicester saved patients when an assailant stormed into the hospital with a knife.
The 36-year-old nurse, Caroline Clayton-Barker, realized what was happening and ushered her patients out of the infirmary before approaching the attacker.
Seeing that she couldn't stop him, Clayton-Barker also retreated. The shocking footage taken back in January can be seen below.
The assailant has since been arrested and identified as 22-year-old Yusuf Aka. He also stabbed a man outside the hospital.
Clayton Barker told BBC that the incident played out like a "horror film." She could tell Aka was "going to cause havoc" and took control of the situation.
The footage shows Aka entering the hospital and throwing various items around in a fit of rage while Clayton-Barker evacuated the patients.
She later said that her act of bravery could hardly be described as such because it was her "duty to protect [her] patients."
Still, it was nice to be acknowledged, she added. Aka was restrained after a few minutes when a security guard and another nurse overpowered him.
At his hearing two months ago, Aka pleaded guilty to grievous bodily harm, affray, and possession of an offensive weapon.
His sentence was handed down last week and Aka will spend the next five years in jail. He will also serve a concurrent sentence of 16 months for possession of the knife.
In other recent news, a 74-year-old grandmother from Midfield put up a fight when a man tried to rob her in a parking lot.
She later told reporters that she "wrestled with him for a good five minutes" and even broke two nails in the process.
In a similar case, teenagers tried to rob a 77-year-old woman from Wirral while she was withdrawing cash from an ATM. Read the full story here.
Please fill in your e-mail so we can share with you our top stories!