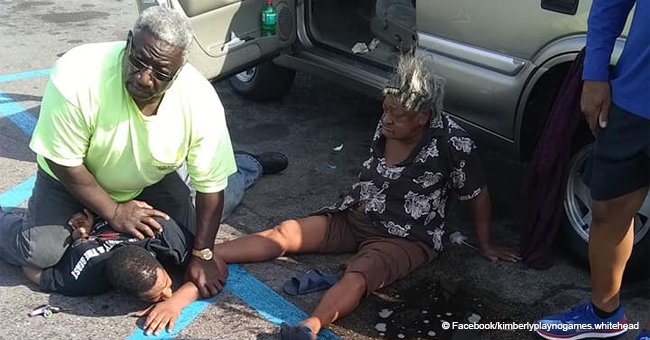 'I grabbed him between his legs.' 74-year-old grandma fights off violent attacker
A 74-year-old grandmother bravely defended herself against a thief who wanted to steal her belongings in a parking lot.
As reported by AL, Brenda Stinson knew that she was at a disadvantage to the assailant; however, she gathered all the courage she had and decided to fight in a very effective way to prevent the man from taking her money.
The only idea that crossed the mind of the old lady was to attack 'the weak spot' of any man, so she decidedly grabbed hard the crotch of the attacker, thus making the man could not run away with her money.
Both were struggling for a few minutes until a Good Samaritan observed what was happening and ran to help the woman, the defender managed to immobilize the thief on the ground and save the woman from being beaten.
Stinson says that before the man came to rescue her the only thing she could think about was that this would be her end; she believed that the thief would beat her until he finished with her right in that parking lot but it was not like that.
"I struggled with him about a good five minutes," Stinson said. "I gave him a round, I really did, I tussled with him, I broke two of my nails, tussling with him"
The elder woman was attacked after shopping at a Piggly Wiggly supermarket in Birmingham, Alabama, with the robber following her way as she went to get into her SUV.
She carries her cash in a brown envelope instead of a purse and believes her attacker had been covertly watching her for a little while before he decided to attack.
The Good Samaritan that frustrated the crime is William Daniels. He said he did not have time to think or get mad about what he saw. He just got out of his car and ran to save the old lady before the robber had the chance to hurt her.
A similar situation happened in Michigan where 4 young girls defended themselves from a man who tried to kidnap one of them, the girls were walking out of a service station when the man began following them.
They cross the road to avoid him but he came closer and grabbed one of them, quickly, the other girls reacted and began kicking him and punching him, they even threw a hot cup of coffee to the man until he let them go.
Thanks to these women's bravery there are two criminals less out there in the streets.
Please fill in your e-mail so we can share with you our top stories!