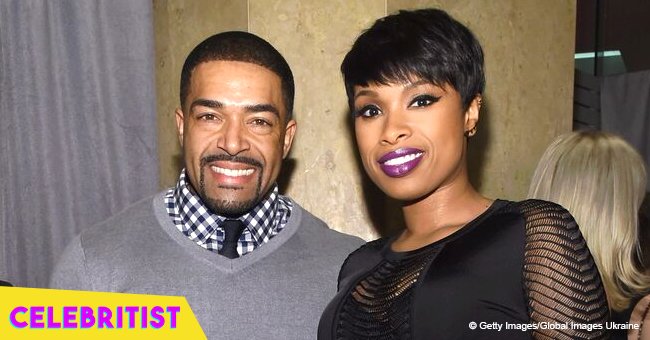 Jennifer Hudson's ex-fiancé David Otunga shares pic of new family member amid custody battle
David Otunga finds a reason to smile despite the persistent drama surrounding his custody issues with his ex-fiance, Jennifer Hudson. After gaining primary custody of their son, he's had to defend himself from accusations of abuse and underemployment.
Amid the ongoing drama surrounding his custody battle with his ex-fiance, Jennifer Hudson, David Otunga takes a moment to rejoice in the homecoming of his newborn niece.
Earlier this month, the WWE athlete showed off his biceps as he cradled the new member of his family who was about to leave the Newborn Intensive Care Unit after being born prematurely at 26 weeks. David smiled for the camera holding on to the precious child who'd been through so much at such a young age. David also rejoiced in the fact that the newborn was headed home as he indicated in his caption.
"From clinging to life to clinging to my bicep! After being born at only 26 weeks, my niece Emee is finally ready to leave the NICU and come home!"
David's feeling of joy probably matches the emotions he felt when he was granted primary custody of his eight-year-old son, David, Jr in November. The boy has been the subject of the wrestler's ongoing custody battle with Jennifer who accused her ex-fiance of being violent with her towards the end of their ten-year-relationship. She filed for divorce after an incident in her home where she claimed David became aggressive with her by pushing her out of their master's bedroom. She also accused David of roughly grabbing their son by the hand during their altercation.
In January, David was cleared of his ex-wife's claims as the court ruled in favor of him. The wrestler who denied he was ever abusive to Hudson was absolved of any charges. He claimed Jennifer falsely portrayed herself as a victim just to gain an advantage in their custody battle she knew she was going to lose. A statement released by his attorney said,
"David Otunga has been trying to negotiate the terms of an amicable parenting agreement with Ms. Hudson for several weeks now. However, when it became apparent to Ms. Hudson that Mr. Otunga would be the parent granted residential care of the child, as a result of Mr. Otunga being the child's primary caregiver while Ms. Hudson pursues her career all over the world, Ms. Hudson decided to file a meritless Petition for Order of Protection in an effort to gain an unfair advantage in the custody dispute."
David has also had to defend himself in April during a court hearing to disprove Hudson's claims that he was "underemployed." The hearing was the continuation of their months-long legal battle over child support. Jennifer was present during the hearing where David took the stand and discussed his sources of income. David is a Harvard law graduate who left his $165,000-a-year Chicago law firm more than a decade ago. He worked as a professional wrestler for a few years and eventually became an announcer and ambassador for the WWE. He also dabbled in acting and motivational speaking, apart from his stint as a "pop culture expert" for the HLN network, a fitness guru in Steve Harvey's show, and a product endorser. It was also disclosed he left a paid job at WWE to work in a movie which fell through. He claims he now works as a pre-show panelist for the WWE organization but Jennifer claims he only works a few days a month and should be required to find a more stable employment.
David and Jennifer began their relationship back in 2007. They were dating for barely a year when David proposed marriage in 2008. Tragedy struck soon after their engagement when Jennifer's mother, brother and nephew were murdered by her sister's ex-husband. Jennifer was spared because she traveled to be with David at the time. The pair welcomed their son in 2009 and despite being together for 10 years, they never married. Jennifer said of their long engagement then, they were in no rush to get married and were waiting for the perfect time.
It seems the reason they never tied the knot revealed itself later after cracks in their relationship led to their separation.
Please fill in your e-mail so we can share with you our top stories!