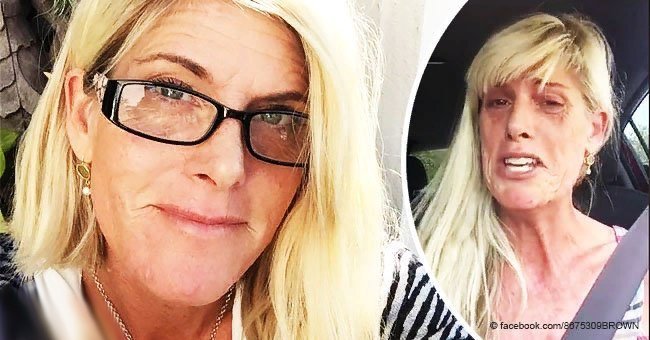 Woman reduced to tears after being shamed and rejected in salon for invisible disease

The high temperatures caused the symptoms to increase and her skin reacted almost immediately, further exposing the marks caused by her illness.
In what was going to be the last time she visited her nail salon of choice, 47-year-old Jeniffer Dreyer Brown left the Happy Nails shop in Laguna Niguel, California, in tears, after their employees embarrassed and humiliated her.
Brown took to her Facebook account to report on the incident, asking people to boycott the local business in support of her. Read more on our Twitter account @amomama_usa
She shared that she was denied service at the nail salon because of the way her skin looked due to Brown suffering from lupus.Lupus is a non-contagious autoimmune disease that causes inflammation and skin rashes and is aggravated by exposure to the sun and heat, as Fox reported.
Brown went to Happy Nails for a routine manicure, as she had done in many occasions. She had an appointment to get her nails done, but this time she met with the concerns of the employees about her skin.
After initially refusing to tell her the actual reason for them to refuse to do any work on her nails, the employees admitted to her that it was her skin what troubled them.
"What about my skin? My fingers, there's nothing wrong with them," Brown allegedly asked the beautician, to what the worker replied: "It's the rest of you."
Brown explained that it was "the one time" she chose to leave her house with her marks exposed because it was a particularly hot summer day, and she was received in a very unpleasant way.
She left the room in shock, got into her car and broke into tears. The humiliation she felt was so unbearable that she recorded a video message to express her discomfort and expose the beauty salon.
Her clip has been shared more than 900 times, commented more than 1,300 times and has received almost 2,000 reactions on Facebook.
"I never felt more like a leper and more judged in Orange County. I just want you to know you need to be nice to people. You don't know what's going on with someone on the inside or outside for that matter."
-Jeniffer Dreyer Brown, Facebook, July 10, 2018.
"People can be absolutely repulsive. I'm so so sorry you were treated that way," wrote Jeramee Kaleb in support of Brown.
"100% backing you! Will never ever go there again! Sending you love," added Christy Lily Watson, joining the hundreds who sent loving messages to Brown to help her get over what happened.
According to Fox, Scott Wellman, the corporate lawyer for Happy Nails, said that the employees simply tried to follow the rules.
Wellman stated that, despite the fact that Lupus is not contagious, workers may not have known it. Wellman says he feels bad about the situation and hopes to compensate Brown.
"No person shall perform service upon a surface of the skin or scalp where such skin is inflamed, or broken, or where a skin infection or eruption is present," reads California Board of Cosmetology's code, as quoted by Shareably.
The unfortunate incident reminds us of the time a Canadian comedian was devastated when a train guard attacked her for using a disabled space with her mobility scooter.
Tanyalee Davis suffers from a form of dwarfism, and could not help but burst into tears when a guard humiliated her publicly on a train that went from Plymouth to London.
Due to her condition, Davis uses a scooter to move, since she is not able to walk long distances.
According to her statement, the guard even threatened to call the police if she did not move from the spot reserved to people with disabilities, even though she is a person with reduced mobility.
A spokesman for the railway company confirmed that an investigation is underway, adding that the incident "should not have happened" and apologizing to Davis.
Please fill in your e-mail so we can share with you our top stories!