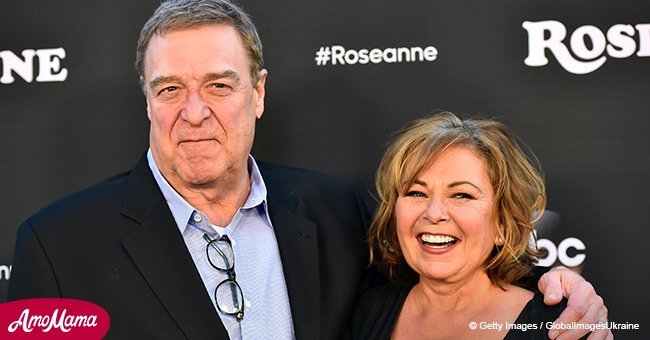 Roseanne Barr reacts to John Goodman's first interview after the controversy
On Monday, an interview with actor John Goodman was published. There he opened up about the cancellation of the "Roseanne" reboot.
The actor revealed that he knew Roseanne Barr, his co-star on the cancelled show, was not racist. The next day, Barr took to social media to thank him for standing up for her.
On "Roseanne" John Goodman, 66, acted as Roseanne Barr's husband Dan Conner. In an interview with The Sunday Times, which was published on Monday, the actor described himself and Barr, 65, as "work friends."
He also defended her against accusations that she was racist. The "Roseanne" reboot was cancelled in May after her controversial tweet.
For more on this story go to our Twitter account @amomama_usa. Speaking about the debacle, Goodman said, he was surprised by the response to it.
"I'll put it this way; I was surprised at the response. And that's probably all I should say about it. I know, I know, for a fact that she's not a racist," the actor said.
He also revealed that the situation had left him "brokenhearted" and resulted in him going through a period of depression.
"I thought, 'OK, it's just show business, I'm going to let it go,'" Goodman said. "But I went through a period, about a month, where I was very depressed. I'm a depressive anyway, so any excuse that I can get to lower myself, I will. But that had a great deal to do with it, more than I wanted to admit."
Barr signed over her creative rights to the show to allow her cast mates and the crew to keep their jobs. She won't receive any compensated for the spin-off which will feature Goodman and the rest of her sitcom family, titled "The Conners."
Goodman confessed to having sent her an email and thanking her for allowing them to keep their jobs. However, he shared that she didn't respond.
"I did not hear anything back, but she was going through hell at the time. And she's still going through hell," the actor said.
The following day after the interview was published Barr referenced Goodman on social media.
"I thank John Goodman for speaking truth about me, despite facing certain peril from producers and network," she wrote.
With regards to the spinoff, Goodman suggested that Barr's character would be killed off. "The Conners" will premiere in "Roseanne's" previous timeslot on Tuesday, October 16 at 8 p.m. ET on ABC.
Please fill in your e-mail so we can share with you our top stories!