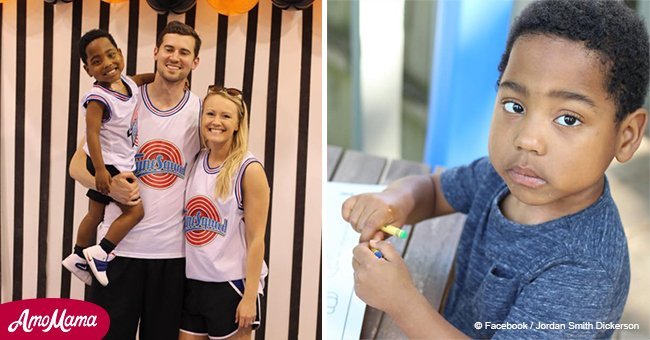 4-year-old boy learnt that he would be getting a new baby sister on adoption day

Newly adopted boy discovers he is going to be a big brother
The story of a little boy who has been adopted by a Tennessee couple is melting hearts all over the USA, reported ABC News.
Jeremiah,4, was adopted by Cole and Jordan Dickerson, and he told the world he was going to be a big brother on the steps outside a Tennessee courthouse after his adoption decree had been signed.
Jeremiah announced that his new mom would be giving birth to his baby sister in January 2019, making his family complete.
"We fell in love with his smile and his joy. We just knew he was going to fit in our family. There was no denying it."
Jordan Dickerson,ABC News,14th of August 2018.
Tiny Jeremiah was very ill and all alone.
Jordon Dickinson met Jeremiah while he was staying at Le Bonheur Children's Hospital in Memphis, Tennessee, where she works as a pediatric nurse.
Dickerson said that she knew straight away that there was something different about the cheerful and lovable toddler, and started falling in love with him.
Read more inspiring stories on our Twitter account @amomama_usa.
"He was meant to be my son"
She confessed that she couldn't get Jeremiah out of her head, and her husband asked to meet him and fell in love too.
To Dickerson's distress, Jeremiah was sent home to a foster family, but a few weeks later colleagues called her from the hospital to tell her that Jeremiah was back.
And then they were four!
The Dickersons applied to take Jeremiah into foster care and underwent the necessary foster care training and background checks, and a year later, on the 16th of July 2018, they signed the adoption papers that made Jeremiah a Dickerson.
Family and friends gathered at the courthouse to celebrate, were greeted with the news that Jeremiah wouldn't be an only child for long.
Jeremiah, Jordon and Cole Dickerson will be welcoming a new addition to the family in January 2019, a sweet little girl for Jeremiah to be a big brother to.
If you liked this story, read the following moving articles.
Mom loses son in Walmart and finds him praying on his knees
Couple learns horrific truth about adoption agency when their adopted girl learns English
Please fill in your e-mail so we can share with you our top stories!