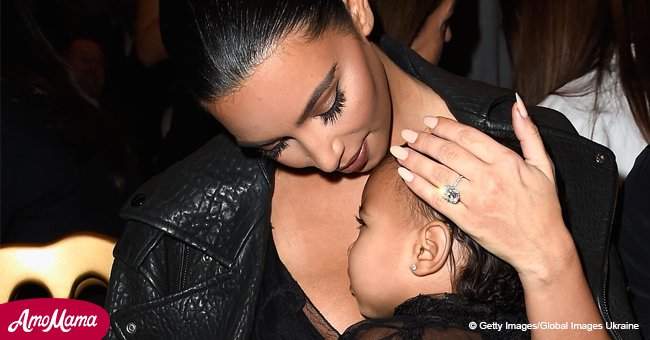 Kim Kardashian's first reaction amid reports about possible fourth baby

Kim Kardashian commented on the reports she and husband Kanye West are planning to have a fourth child.
Kardashian and West were married in a private yet luxurious ceremony in Florence on May 24, 2014. Since then, they have welcomed three children, North, Saint, and Chicago.
Recently, rumors surfaced saying that the power couple is planning to have another baby via surrogate soon.
However, the "Keeping Up With the Kardashians" star has pretty much denied every rumor in the latest interview.
E! News caught up with her at the Christie's x What Goes Around Comes Around 25th Anniversary Auction in Beverly Hills.
Follow us on our Twitter account @amomama_usa to learn more about the Kardashian family.
When asked about the reports, her response was less definitive than you'd think.
"I don't know, I don't know, I read that, I read something...none of that was true," Kardashian told E! News.
"But I've been really open about it and talked about it on our show, so...I don't know."
The television personality added: "We start filming season 16 next week, so if I think about it more and it's gonna happen, you'll definitely see it on the show. But as of now, no."
Fans of the hit show "Keeping Up With the Kardashians" will recall Kardashian's journey to have a third child.
In November 2016, during an episode of the show, the entrepreneur and socialite decided to explore the idea of surrogacy after being told by the doctors that it "wouldn't be safe" for her to get pregnant again.
When Kardashian became pregnant with North and Saint, she experienced complications and it was explained to her that it would be considered a "high-risk pregnancy" if she were to get pregnant again.
"Lately I've been thinking I would love to maybe have another baby," Kardashian said. "But like I had two really difficult pregnancies and really difficult deliveries so getting pregnant again it's something that does concern me."
OB/GYN Dr. Crane explained to her, "Here's what I think, your pregnancies, you had toxemia, you had a retained placenta, very traumatic, we're always worried about the next serious complication. I think the potential fear of the whole situation is legitimate."
"You never know that you might not have the same type of problem that might be more serious this time. You're always taking a little bit of a chance," Crane added. "There are situations where retained placenta could be life and death."
Kardashian later met with Dr. Huang, a fertility specialist, for a second opinion. But the doctor also believed that she would have a "high-risk pregnancy" if she were to get pregnant again.
Dr. Huang then suggested another option, and that was to get a gestational surrogate.
According to E! News, a lot of sources told them in June 2017 that Kardashian and West had hired a surrogate to carry their third child.
A few months later, Kardashian confirmed that they were expecting a baby. In January 2018, the pair introduced their third baby Chicago to the public.
Please fill in your e-mail so we can share with you our top stories!