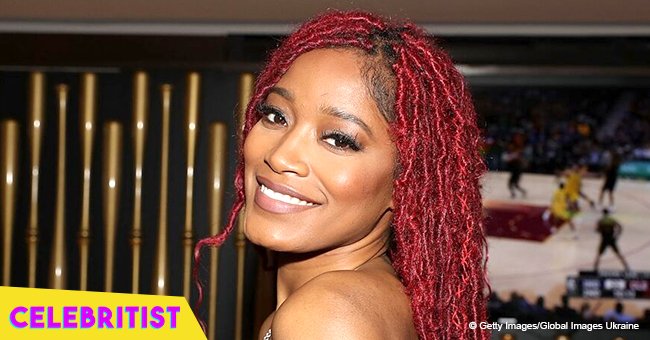 Keke Palmer leaves nothing to imagination in golden underwear for sultry 25th birthday pic

A series of photos Keke Palmer shared as she turned 25 is making waves on social media. The singer leaves very little to the imagination as she bares her skin in skimpy gold underwear and channels her inner temptress.
Keke Palmer just turned 25 and she celebrated the occasion dressed in vintage gold. The "Scream Queens" star left almost nothing to the imagination when she shared a photo where she's skimpily dressed in shimmery underwear.
Keke's birthday marks new beginnings for the "millennial diva" who came to the realization that life is better when it's a surprise. Attached to her sultry photo, she reflected on what she's always been and what she now wants to be.
"I'm 25 yrs old today!! When I was younger all I wanted for my birthday was a SURPRISE! I've always been the type of person that had so many expectations for the things I wanted out of life often causing me deep disappointment. As I get older I realize that even when I got the things I was expecting, I was never happy because I was still expecting more!"
Keke is now also a believer in living in the present. She's determined to be happy with what she has and to be more accepting of the things she is not.
"Now that I'm 25 I know that life isn't about trying to acquire the things that you think will make you happy but to instead try to just BE happy in the moments that you are. To accept the moments that you are not and to know that life won't always be what you want, but what you need. God bless y'all!!
Keke's photo is tantalizing. She's wearing a golden bikini top matched with gold printed panties she pulls up to her waist. Her hips are adorned with dangling beads of gold leaving her thighs and legs in full view. She completed her look with a golden cropped jacket with her hair tied into a messy do.
Keke also shared two other sultry photos to mark her milestone. She channels Princess Leia buns in both, and teases her followers with seductive poses.
This isn't the first time Keke dared to bare on her Instagram. A few months back, she also exposed her cleavage wearing a sexy cowboy outfit while dancing to Drake's "Yes, Indeed." The former Disney star proved she's as much a dancer as a singer with a penchant for the wild west.
Keke's talent is undeniable but this also came with a price. She recently revealed her struggles with anxiety and depression as a teenager. In January, she released her book "I Don't Belong To You: Quiet the Noise and Find Your Voice." It's here that she spoke up about mental health and how it's an issue often overlooked among the black community due to lack of money and education.
It's clear Keke isn't all about flaunting her body or her talent. She's also about making a difference. There a lot of wisdom springing out from this 25-year-old that fans can learn a thing or two from.
Please fill in your e-mail so we can share with you our top stories!