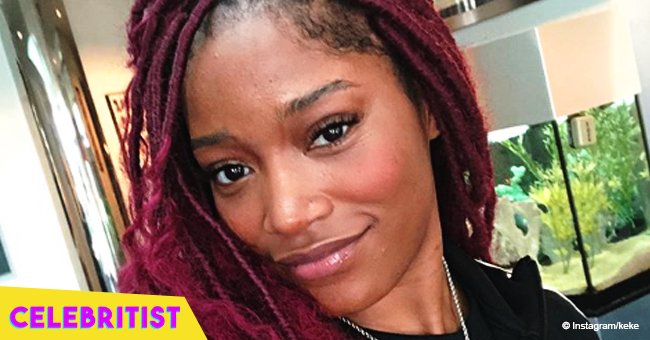 Keke Palmer leaves little to imagination in revealing cowboy outfit in new pic
Keke Palmer is showing off her curvaceous body in recent posts on Instagram while rocking a cowgirl outfit that leaves little to the imagination. This comes after the actress has opened up about her struggles with anxiety and depression and how she has been able to deal with those issues.
Celebritist was lurking around Keke Palmer's Instagram account and we stumbled with a photo and video of the "Scream Queens" actress wilding out in a cowgirl outfit, as she showed off her moves and some skin.
The 24-years-old beauty was in the middle of filming something and she decided to shoot a small clip while dancing to Drake. She rocked a plaid crop top with long sleeves that put her chest on display, jeans shorts, and boots that enhanced her beautiful toned legs. She completed the look with a cowboy hat that made her embody the wild west spirit to the fullest.
Dancing to Lil Baby feat. Drake's "Yes Indeed," Keke proved why she's considered one of the best entertainers in the industry. She's not only a talented actress but also an incredible dancer with a great sense of humor.
However, being in the industry since she was so young has brought some consequences to Palmer and her mental health. She recently opened up about her struggles with anxiety and depression in an interview with The Grio, where she also exposed her point of view about mental health in the black community.
"When I was around 16 or 17 I really found myself struggling with anxiety and depression and started writing about it, but on top of that, I started tweeting out quotes. That really helped me find the words that I couldn't express about how I was feeling. And I got a pleasant surprise from my generation that they were also feeling the same way."
Palmer also stated that she believes mental health issues are still overlooked in the black community and sometimes, that comes from the fact that people don't have the resources to really understand what's happening with their brain.
"A lot of times people think it's a black and white thing but really it's a resource and a class system thing. There are a lot of black people who can afford a therapist or have the education to know what they should be doing for themselves, but we don't get to see those people."
For Keke, money is a big game-changing factor when it comes to shedding light on mental health in the black community. According to the actress, the fact that some people don't have access to certain level of education is really affecting their views on the world and themselves, and that, it's unfair.
"Really the issue is money. People don't have the money to be able to find their way out of ignorance to say, 'Wait a minute. My mind is just as important as my body…Let me talk things through about how I feel. Let me communicate positively to my children so they can feel confident when they grow up."
Keke wrote all about her feelings on these issues in her new book, "I Don't Belong To You: Quiet the Noise and Find Your Voice," which was released on January. We're glad that at her age Palmer is already being so honest about issues that are affecting our youth. She might be able to help someone that is going through a similar situation but doesn't know how to express it.
Please fill in your e-mail so we can share with you our top stories!