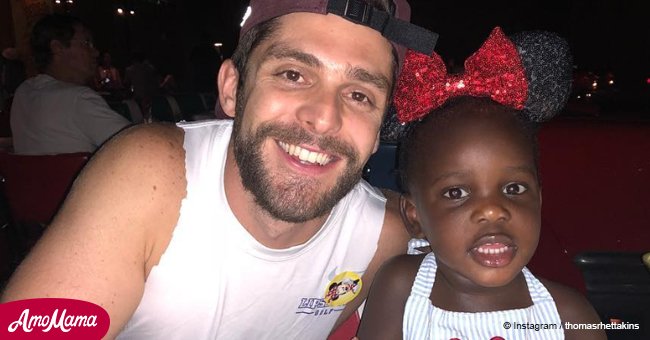 Thomas Rhett made a candid confession regarding adopted daughter
Thomas Rhett revealed that even though Willa Gray was adopted, it does not feel that way, because it seems like she has always been a part of the family.
Rhett and his wife Lauren Akins adopted baby girl Willa Gray from Uganda on May 12, 2017, and on August 12, 2017, they welcomed their second daughter, Ada James Akins, born in Nashville, Tennessee.
Rhett believes that little Willa was always meant to be their child, according to People.
The country singer spoke about how excited he feels whenever Willa, born on November 1, 2015, hears the music. He said that his daughter begins to dance whenever he plays his guitar and added that music seems to be in her blood.
"The word 'adopted' doesn't even make sense in my head anymore really. I know that it happened, and I remember it very vividly, but it kind of feels like she has just always been here. Even though Willa Gray comes from (a) whole different part of the world, she's ours, and it feels like she never wasn't."
Thomas Rhett, People, August 17, 2018.
The 28-year-old country artist said that Willa's love for music is just one of the many reasons why she so easily settled with Rhett and his wife, Lauren, also 28.
Rhett is also aware that Willa comes from an entirely different background, but he wants her to embrace both the parts of her life and be proud of where she comes from.
Their second daughter, Ada James Akins, was born three months after the couple completed the adoption formalities and brought Willa home.
Ada James turned a year old on August 12 this year, and Rhett joked that the sisters are like two peas in a pod who always go around making trouble.
Rhett also insists that even though his family travels with him when he is on tour, the couple tries to make sure that they live a simple life in their home in Nashville.
The singer added that he and his wife want their daughters to be proud of where they are from and who they are.
Earlier, Rhett's elder daughter met her baby sister for the first time and her precious reaction was captured on camera.
Lauren shared a heart-warming video of the first meeting between the little sisters on her Instagram account.
In the video when Willa sees the baby and is told that it's her little sister. She then goes on to gently touch Ada's hand and kisses her cheek.
Please fill in your e-mail so we can share with you our top stories!