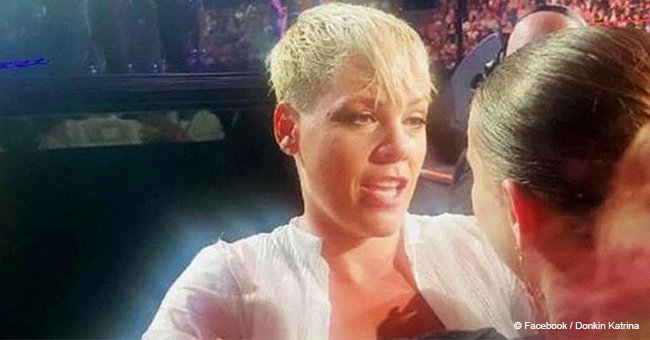 Pink stops concert, walks into crowd to hug grieving fan (video)
Superstar singer Pink stopped her concert to hug and console a teenager, Leah Murphy, who had lost her mother recently.
A video uploaded on Facebook shows Pink walking into the crowd to meet a 14-year-old teen during the concert in Sydney, Australia, on August 21, 2018.
Pink received a note asking for a hug. The audience members passed around the sign that explained what had just happened.
Read more on our Twitter account @amomama_usa.
When the note finally reached the performer on stage, she stopped her concert and obliged.
The note read, "My name is Leah – I'm 14 years old. I lost my beautiful Mom last month. I would LOVE a hug… Please!"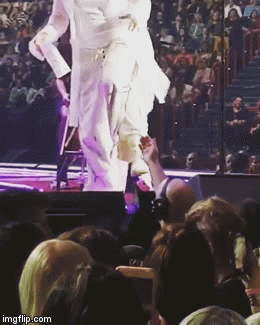 Source: Imgflip
According to People, the girl's mother, Debbie, died in June and was also a Pink fan.
The 38-year-old singer walked over to talk with Murphy and hugged her. He also took a selfie with the youngster and told her that it was going to be okay.
Speaking to the show Sunrise in Australia, the teenager said that she was enjoying herself in the concert when she heard Pink calling out her name.
"I was crying a lot, and she was like, 'Oh, don't cry.' She was like 'You look so pretty' and she was really nice [telling me], 'Everything is going to be OK.'"
Leah Murphy, Sunrise in Australia, August 23, 2018.
The gesture lifted the spirits of the young girl after losing her mother. She reminisced about how she and her mother used to sing Pink's songs together and dance around the house.
Murphy's father, Chris Murphy, described the moment as "unbelievable." He believed that the singer's genuine concern was visible in the photos and lifted the spirits of the entire family.
According to Shared, Debbie had purchased the tickets for the concert in Sydney. Unfortunately, she passed away months before the event.
Murphy's aunt, Katrina, said that the singer's music and lyrics were probably helping her in the grieving process.
It was the teenager's aunt who hatched a plan to do something special. She made signs and hoped they would catch Pink's attention.
After the encounter, the singer went back to continue with her show. However, the memories will remain with Murphy forever.
Katrina said that she had not seen the teenager smile so much for a long time. Her father too was happier than he had been in a very long time.
Pink has been active on social media in the recent times. She shared a photo of herself performing on stage with a big smile on her face.
The singer took to Instagram to share a photo in which she is seen wearing a hot pink and black suit and a glittery dress.
She also shared another photo of herself with her 13-month-old son, Jameson Moon. The little was wearing a t-shirt which read, "A Little Kindness Can Change Everything."
Please fill in your e-mail so we can share with you our top stories!