Dog gets package from friend but post office declines to hand it over without ID and signature
A Swedish post office refused to accept the signature of a person because the package was addressed to a dog. They requested the pet's sign to deliver the box.
The post office is called PostNord and, since one of the policies states that the person – or animal, in this case – who was labeled as the recipient of the package was the only one allowed to pick it up, they requested the dog's sign and identification.
When Marie Palmgren learned that her friend sent the dog toy under her boxweiler's name, Chaya, she tried to explain that it was a joke as Chaya was actually a dog, reported Little Things.
However, PostNord demanded an ID and a signature from Chaya, as well as an ID and signature from Marie as Chaya's "helper."
The woman went back home and looked for the registration document that stated she was Chaya's owner. Apart from that, she found something that would serve as her pet's ID and went back to the post office. Thankfully, she took the dog with her.
ANOTHER REQUEST
One in the office again, Marie handed over all the documents she gathered and, after 15 minutes, the staff at the post office had good and bad news.
The good one was that they accepted all the documents as Chaya's ID and that they would give her the package. However, the bad news was that they needed something else: Chaya's signature.
After thinking about it for a while, Marie and the workers of PostNord realized that the only way for a dog to sign a paper was to use an ink pad and make it step on it and, then, on the document.
CHAYA'S SIGNATURE
That's exactly what they did. One of the workers gave Marie the ink pad, she got Chaya's "paw prints," and made her "sign" the last document.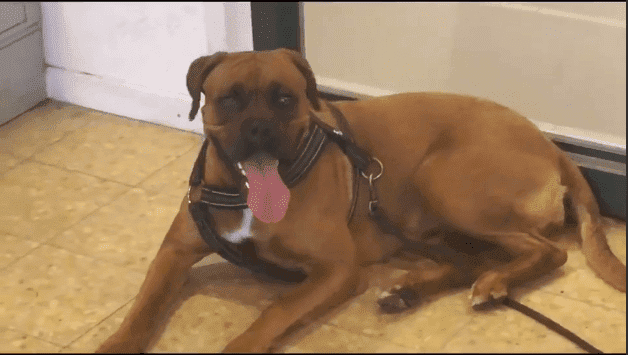 Marie made sure to record everything and, even though it was quite unnecessary, the video became viral as it was labeled as a "cute absurdity."
As Marie revealed, the members of the staff were very serious throughout the entire process.
"Me? I was totally flabbergasted. When I reached the car, I laughed so much that I got a pain in my stomach," finished Marie.