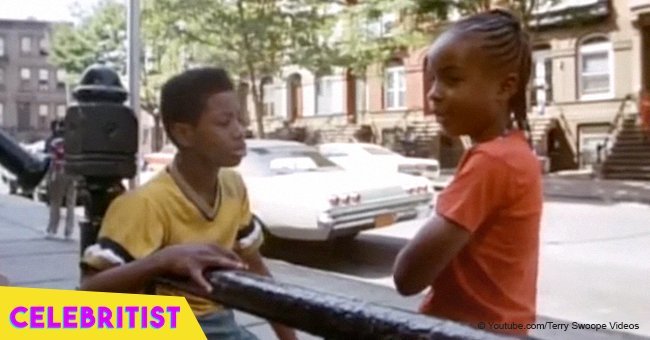 Remember Troy from 'Crooklyn'? She's 33 now & stuns in pink T-shirt & mathing headwrap in new pic
Zelda Harris is no longer the little tomboy girl that appeared on the '94 Spike Lee film "Crooklyn." Now, in her thirties, Zelda is still part of the entertainment industry, but the years have given her an inclination toward music.
Zelda Harris is looking better than ever in a recent pic shared to her Instagram account. The former actress was laying on the grass wearing a pink t-shirt with a printed graphic of singer Lauryn Hill. She rested her head on her bag and covered her hair with a bright pink headwrap that brought out her skin color in contrast with the green grass.
"'Contemplations in Dusk' by @pinkgreynyc," she captioned the pic, as she was captured looking at the side as if in thought in the photo. Fans immediately took over her comment section to share their thoughts on the picture.
One user wrote "such an inspiration... you've been my role model since a kid, and so beautiful" another added "watching Crooklyn right now & adoring you at this very moment!!! you are such a BEAUTY," and a third one said, "That shirt is everything!"
The 33-year-old beauty started her career in Hollywood being a little girl with an appearance on "Sesame Street," and one episode of "I'll Fly Away." However, she was able to charm Spike Lee on her audition for "Crooklyn," and she later did the same with the viewers fiving life to Troy, a girl that, Zelda described back in 1994 as "a girl who won't let anybody push her around."
"She's a lot like me. I'm a tomboy. I don't have brothers, but I'm pretty rough," said 9-year-old Harris back then.
Through the years, Zelda kept a low profile on social media. She opened her Instagram n 2015, but before that, no one knew what little Troy was doing with her adult life. As it turns out, Zelda made several cameos on TV until 2002, then she took a long break and appeared once again in 2014.
Despite taking some roles here and there, Zelda is now entirely dedicated to music. She can play a wide range of instruments, including the piano and saxophone. She's the lead singer of the band Zelda and the Lo Lo's, a neo-soul/hip-hop focused group that's currently working on their first studio album while making performances at small venues and clubs.
Please fill in your e-mail so we can share with you our top stories!