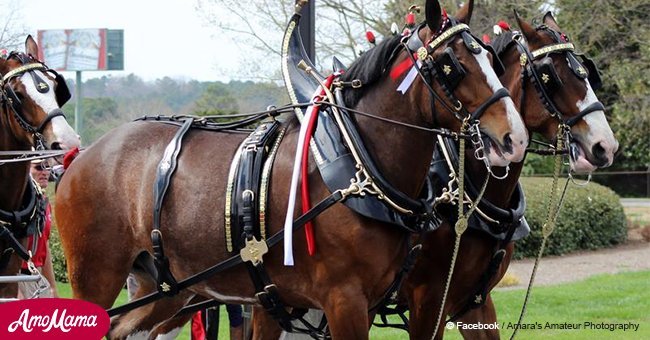 Meet the man behind famous Budweiser Clydesdales horses
Budweiser Clydesdales are an icon for many people around the world. For John Soto, it is more than just an image for the brand, it's his passion.
Soto is one of the horse handlers as well as the Supervisor at Warm Springs Ranch in Missouri, who is in charge of breeding, helping birth, raising, and training some of the world's most famous horses.
According to the Columbia Tribune, he was one of the people responsible for the upbringing of these iconic horses that rose to fame some 30 years ago and have become a part of the company's image.
Soto received the call to join the Budweiser Clydesdales team when he was only 21 years old. He didn't have to think twice about dedicating his life to one of the most recognized symbols in the world.
Follow us on Twitter to learn more.
For the last 38 years of his life, the 58-year-old man has been maintaining and breeding some of the most famous horses in the world.
They have become a universal symbol for the company appearing in many important events including in presidential inauguration parades as well as more than 40 Super Bowl commercial aired since 1975.
The horses are bred and looked after at the Warm Spring Ranch in Boonville, just west of Columbia. The nine pastures are home to almost 65 horses. It is managed by a four-member staff including Soto.
The company wanted to have its own breeding ground for the Budweiser Clydesdales near the company's brewing facilities. Soto moved from Riverside, California to run the breeding operation at Warm Springs in 2008.
"To be able to say, at my age, that I'm out there actually breeding the starting of the Budweiser Clydesdales, a part of the whole Budweiser Clydesdale chain ... pretty, pretty neat stuff," Soto told Columbia Tribune.
Budweiser Clydesdales were also a part of a heartbreaking commercial that aired in 2011 to pay tribute to the victims of the September 11 attacks. The commercial was aired only once so that no financial reward could be accrued from it.
Please fill in your e-mail so we can share with you our top stories!