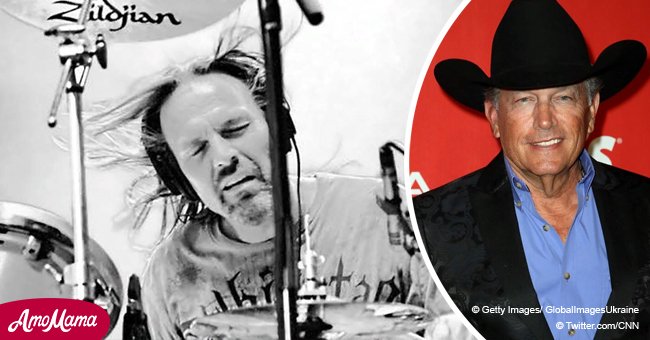 Country music star George Strait's longtime drummer has died
The drummer who played for the popular country musician for nearly three decades was tragically killed in an accident over the weekend.
Mike Kennedy, drummer to George Strait, died in a car accident on Thursday, August 30. The musician had been driving on the Interstate 40 in Lebanon, Tennessee, at the time of the crash.
According to CNN, Kennedy was driving his SUV westbound when he had merged onto the right lane of traffic on the highway, colliding with a tractor-trailer, which subsequently drove into a pickup truck.
Kennedy had not been wearing a seat belt at the time of the accident, and was the only person to lose his life in the crash. There were no other injuries resulting from the incident. Officials have claimed wearing a seat belt would not have changed the outcome of the collision.
Kennedy made his first appearance for Strait on the singer's album "Holding My Own," which was released in 1992. Shortly afterwards, he joined Strait's Ace In The Hole backing band.
Strait took to his Facebook page to share the tragic news, along with a fitting tribute for his long-time band mate.
"Hard to put into words how much Mike's passing has affected us all. Our hearts are broken. It's going to be very strange not being able to look over and see him there in his spot on stage and very emotional as well I'm sure for all of us and also his fans," he wrote. "The band will never be the same. A part of us is gone forever. We all loved Mike and will miss him terribly. He was just as solid a friend to us all as he was a drummer, and that was damn solid. Our hearts and prayers are with his family. The Lord has him now. Rest In Peace my friend."
Kennedy was just 59 years old at the time of his passing.
During his career, he also worked alongside other big names, such as Jamey Johnson, Ricky Skaggs, and Freddie King.
Please fill in your e-mail so we can share with you our top stories!