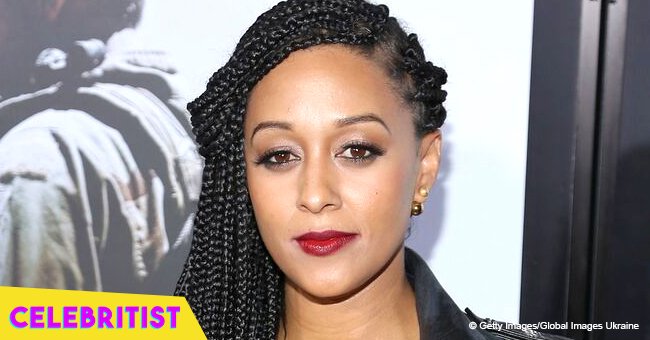 Tia Mowry shares photo of baby daughter Cairo with little hair, posing in striped bib
Tia Mowry is enjoying the sweetness of motherhood for the second time, and she's been sharing every special moment with her fans on social media. The former actress has been open about her struggles with taking care of two kids and going back to her pre-pregnancy body.
Mowry, who recently celebrated her 40th birthday with twin sister Tamera, has been melting hearts all over Instagram with adorable snaps of her four-month-old daughter, Cairo Tiahna. The little girl was introduced to the world through Tia's Facebook show "Tia Mowry Quick Fix," and since then, she has taken front and center on the former actress' feed.
In her most recent photo of Cairo, the little girl looks adorable while giggling to the camera linking her little hands together. Cairo rocked a white striped onesie and a bib with a similar pattern while resting on a floral pillow.
In the caption, Tia gushed about how fast her little one is growing, stating that she can't believe how fast is time passing for her and her baby.
Fans of the "Sister, Sister" actress couldn't contain their praises and blessing for the little girl as they filled Tia's comment section with beautiful words. One user wrote "Omg looks just like her insanely gorgeous mommy," and another added "She's the cutest baby I've ever seen! Omg."
CAIRO'S NAME AND ITS MEANING
Back in June, when Tia first introduced his daughter to the world, she explained the significance of the girl's name.
According to the star, Cairo means "victorious," and they chose that name because her husband, Cory Hardrict, saw the letters "A, I and R" on the sky, something that he considered a spiritual experience that connected him with his late mother.
Tiahana, on the other hand, not only has Tia's name on it but also means "follower of Christ" and was the name of the first African princess.
Tia confessed in a recent interview with E! News that handling two kids has been a bit harder than she thought, as she also has 7-year-old Cree, who recently started his second grade at school. She said:
"You know what I'm doing? Usually, I would say with just one kid; I'm taking one day at a time. But with two kids, I'm taking two steps at a time. I'm only looking as far as my two feet can go. I can't get so far ahead of myself, or I'll get really, really overwhelmed. But you know what they say? It's harder to go from one to two as opposed to two to three but now I get it."
When asked if she was considering a third child, Tia confessed that she's okay with just two. "I think I'm done," she stated.
ON RECOVERING HER ABS AND PRE-PREGNANCY BODY
Tia also confessed that while after her first pregnancy she worked hard to snap back to her old body, with Cairo she has been taking things slower.
Mowry has been sharing her experience after giving birth on Instagram, assuring other moms that despite what most stars promote on social media, is okay for women to take their time recovering their bodies after bringing a new life into the world.
She said:
"Do I think it's important to get back to yourself? Yes, I think it's very important to get back to feeling great, get back to feeling like you were before having a baby but I'm not so fixated on having my abs back and all that kind of stuff. I'm just taking my time."
Please fill in your e-mail so we can share with you our top stories!