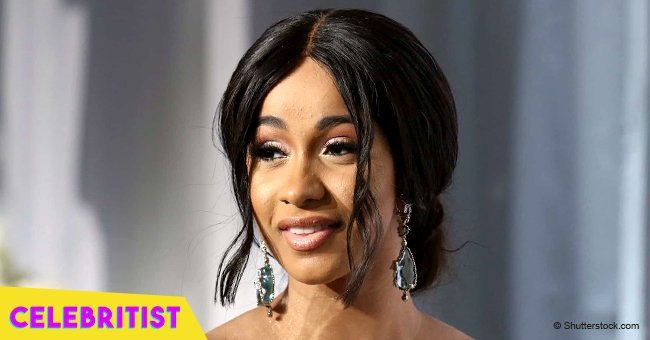 Cardi B shares close-up glimpse of baby Kulture & her skin color sparks heated debate
A sweet photo of Cardi B holding her little baby's hand is sparking controversy. Fans are giving it color by picking on the color of baby Kulture's skin.
Since the birth of her brand new baby in July, Cardi B has been sharing glimpses of her new life as a mother but never of her baby girl. And she recently broke that trend when she shared a photo of Kulture's little hands. The precious snap is the first time Cardi revealed a part of her child and while fans appreciated the move, many chose to focus on something else.
In the photo Cardi debuted, her finger is entwined with her daughter's tiny hands. The close-up image became her means to share her emotions. In her caption, she wrote,
"I needed a girl like you. KK."
Incidentally, the caption referenced her song with Maroon 5, "Girl Like You."
While the proud mom delighted in her child, fans were busy discussing Kulture's skin tone in the singer's comments section. There were negative comments about Kulture's brown skin, but there were also those who defended Cardi and her baby.
"She look like she got meat on hrr. And she gonna be brown sugar awwe."
"Aww cardi got a dark skin baby and she hates dark skin girl and think they look like roaches the irony."
"A dark chunky baby girl."
"Regardless of how Kulture looks that's still cardi b & offset pride and joy."
"Its a dark skin baby. We can all see that. Next."
"With all of these negative comments I wouldn't show my baby either. Why does it matter what color Kulture is? Y'all say dumb shit and let the truth be told Cardi and Offset don't give a damn about y'all opinion. Let these people live they private life and sit y'all broke ass in the corner"
"Yes your baby gonna be nice brown-black baby, just like them black girls you mocked. I'm sure she's beautiful. Thank god for your black baby, her melanin is beautiful."
For more perspective, here's the controversial photo everyone has been debating about.
With all the commotion from a post of just her baby's hands, it's not surprising Cardi is hesitant to reveal more of her. Since the birth of Kulture, she's shared snippets of Kulture's things including a dress she received as a gift and a red stroller set.
A month ago, Kardi also shared a video of her daughter's customized crib complete with a golden crown. The singer gushed about the extravagant crib with gold trimmings and white tulle and described it as "gorgeous." It was definitely a bed fit for her little princess who many hope would fully emerge on Cardi's social media one of these days.
Please fill in your e-mail so we can share with you our top stories!