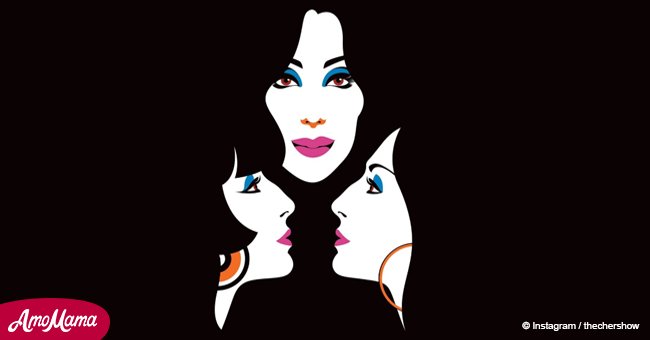 'The Cher Show' presented a newly designed poster with a deep meaning

"The Cher Show" is a biopic jukebox musical about the life and career of Cher, one of the most important musicians commonly referred to as the Goddess of Pop.
Since it is a very ambitious project, they didn't hire one actress but three – Stephanie J. Block, Teal Wicks, and Micaela Diamond – to portray the superstar. Consequently, French artist Malika Favre designed the poster with three faces on it.
As ET Online reported, Favre's creation has her bold signature style that showcases the three different ages of Cher addressed in the play. All three women in the design have jet black hair, blue eyeshadow, and magenta lipstick.
Favre revealed that she was very excited about creating art for a Broadway project as it was the first time she did something similar.
She added that, apart from being a music icon, Cher was also an important fashion role. Favre said that she could still remember her "incredible and flamboyant" costumes on stage.
"The art we created for the show takes the viewer through her most iconic moments, from the '70s Mod style to the diva she is today," revealed Favre.
ET Online shared that even though Favre conceived the artwork, the main "Cher Show" logo was created by House Industries. Apart from showing Cher's three ages, the design gives a glimpse of what people could expect from the play.
Jason Moore, the director of the project, revealed that all three Chers would be visible on stage the whole time as they all discuss the events, just as shown in Favre's logo.
Moore added that each actress plays a different Cher and that they have different nicknames to identify them: Diamond is the youngest and she will be called "Babe;" Wicks takes the role of the '70s Cher, "Lady;" and Block plays a later version, "Star."
"The Cher Show" is expected to premiere on Broadway in December 2018. It features more than 30 songs from the artist catalog, including "I Got You Babe" and "Believe."
Please fill in your e-mail so we can share with you our top stories!