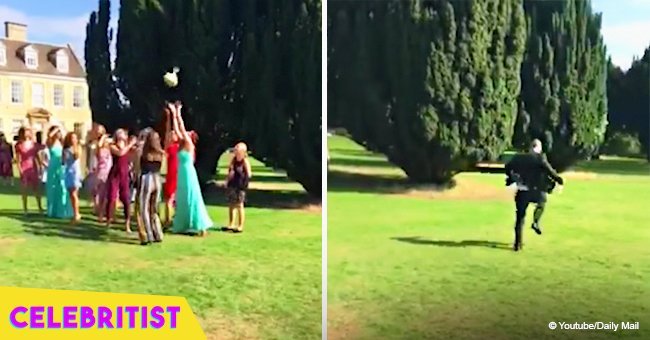 Man runs away after girlfriend catches bridal bouquet in viral video

The video of Daniel Gilbert running away from a wedding ceremony after his girlfriend, Rachel Besley, caught the traditional wedding bouquet went viral.
In most wedding parties, several female members of the guests get together behind the bride, who holds her bouquet and throws it at the group without looking. The tradition suggests that the woman who catches the flowers is the next person from the group who would get married.
That activity took place in the middle of Chelsea and Matt Best's wedding celebration in Kettering, Northampton. Rachel was one of the women in the large group of people who gathered around to catch the bouquet.
Daniel was watching everything from a safe spot holding his and his girlfriend's drinks.
When Chelsea threw the flowers into the crowd, it went directly to where Rachel and another woman were. After a brief dispute, Rachel ended up getting the "prize."
A HILARIOUS REACTION
The proud woman started slowly walking front as if she wanted to celebrate her catch with her boyfriend, but suddenly, Daniel is seen running with two bottles in his hands as fast as he could toward the woods, far away from Rachel.
THE RECEPTION IN A DIFFERENT WEDDING
As Celebritist previously reported, the seven bridesmaids at Theo and Alethea Luwero's wedding started off with a coordinated dance to R. Kelly's "She's Got That Vibe" before orchestrating a smooth transition to Ciara's song "Level Up."
The women, who wore single-strap pink dresses and glittering heels, prove that they not only could coordinate their clothes but also their dance steps.
They also chose a song – "Level Up" – that became viral after Ciara created the Level Up Challenge, which invites people from social media to recreate the dance steps seen in the video, as well as identify three areas in their life where they hope to make improvements.
Please fill in your e-mail so we can share with you our top stories!