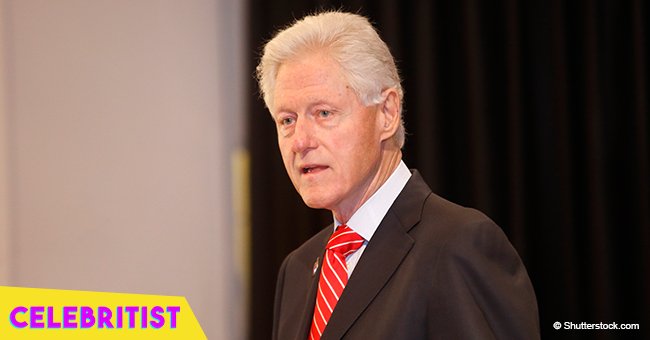 Bill Clinton blasted for sharing stage with controversial black figure at Aretha's funeral

President Bill Clinton is under fire for sharing the stage with Nation of Islam leader Louis Farrakhan during the funeral service for Aretha Franklin. Many expressed their disapproval over the former president's decision to join the notorious Anti-Semite on stage.
While the world watched the ceremonies unfold in honor of the Queen of Soul Aretha Franklin, a glaring sight caught their attention on stage. Sitting along with former US president Bill Clinton was Louis Farrakhan who's notorious for his outspoken views as a homophobe, racist, and mysoginist.
For four decades, Farrakhan has been criticized for his anti-Semitism and homophobia. He has referred to white people as "potential humans," described Adolf Hitler as "a very great man" and practically blamed Jews for the 911 attacks.
It's unclear why Farrakhan was at the funeral though Harvard Law School professor emeritus Alan Dershowitz suspects he had a relationship with Franklin that began 30 years ago which may have prompted the singer's family to invite him. However, with Farrakhan's presence, Dershowitz believes Clinton should have begged off sharing the stage with him.
"I don't know if that relationship continued, or whether the family invited him, but I think any president should have said, 'No. If you want me on the stage, you can't have a bigot like Farrakhan sitting next to me.'"
Though they weren't seated next to each other, Farrakhan was close enough to Clinton to be photographed together. Between them were civil rights leaders Revs. Al Sharpton and Jesse Jackson.
Many expressed their dismay over Farrakhan's inclusion on stage and alongside Clinton at that including Jewish and civil rights groups.
Abraham Cooper of Simon Wiesenthal Center sent a statement to The Algemeiner that read,
"Like millions of other Americans who grew up listening to Aretha Franklin's amazing voice, I was saddened by her passing. Putting Louis Farrakhan in a seat of honor in the first row on stage, near President Clinton and amidst a generation of African American political and religious leaders, was equally saddening."
"Fifty years ago Aretha Franklin received an award from Martin Luther King Jr. and toured the country to raise money for the struggling Civil Rights Movement. For decades Farrakhan has stood against everything MLK lived and died for. He hates America and hates Jews. Aretha Franklin wasn't a hater. The sight of his smiling face on stage soured the heartfelt music and words during the marathon tribute to a great icon."
Democratic New York State Assemblyman Dov Hikind tweeted his shock calling Farrakhan "America's Black Hitler."
"Louis Farrakhan, front and center, treated like royalty? What is this obsession with America's Black Hitler? In spite of his crude, vicious comments about Jews, whites, gays, he is placed up front with President Clinton? Shocking!"
The Clinton-Farrakhan controversy is only one of several spoilers during Franklin's funeral service. Rev. Jasper Williams Jr.'s sermon was criticized after stating that black America was losing "its soul." Singer Ariana Grande was first slammed for her choice of outfit and was later disrespected by Bishop Charles H. Ellis III who seemed to have groped her during their encounter apart from joking about her name in reference to "Taco Bell." After the clip of Ellis touching Grande inappropriately went viral, he apologized to the singer for being "too friendly" with her.
Please fill in your e-mail so we can share with you our top stories!