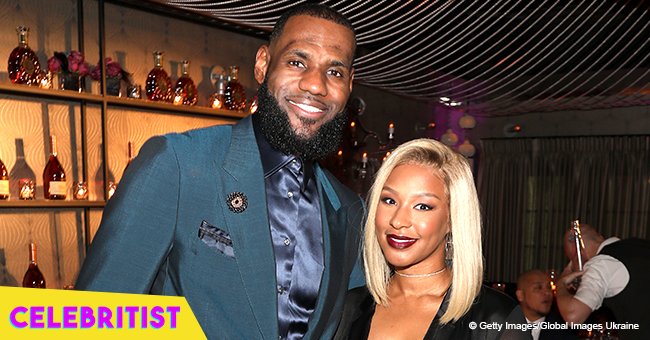 LeBron James' wife flaunts legs in mini-shorts & patterned jacket on her 32nd birthday
Savannah James recently celebrated another year around the sun, and she shared a beautiful picture to show off that not only is her age increasing, but her beauty as well. The mother of three has been entertaining fans on social media with adorable videos of her kids.
LeBron James' wife and high school sweetheart, Savannah James, celebrated her 32nd birthday on August 27, and both she and her NBA star husband took to Instagram to share celebratory posts of the occasion.
Savannah posted a gorgeous photo posing in front of a huge flower arrangement with lilies, as she flaunted her curvaceous figure donning a low-cut white top, high-waisted white shorts, and a red and blue jacket embellished with sparkly details across the shoulders.
The gorgeous woman tied her hair in a half high ponytail and completed the look with large silver hoop earrings. "Oh hey 32 #OneTimeForTheBirthday.... #August27 #LivingLaughingLoving," she captioned the pic.
Fans took to her comment section to wish Savannah the best on her new year of life. One fan wrote
"Happy birthday!!! may the new year of your life be filled with love, peace, success, Health, and gratitude,"
and another praised Savannah's look saying,
"You hold down one of the most powerful men in this world, nurture beautiful children AND still manage to look 19. I wanna be like you when I grow up!"
King James, of course, couldn't let the day pass without wishing his gorgeous wife a happy birthday. The basketball player, who recently signed a contract with the LA Lakers, shared a series of photos of Savannah and with her.
He captioned it:
"Happy Beautiful-Day to my Queen!!!!! Love you from here to the [moon], back to here and then back to the [moon] again! Enjoy your day/week to the fullest. You deserve it. LIVE.LAUGH.LOVE P.S. THANK YOU @mrs_savannahr."
THE JAMES FAMILY AND THEIR ADVENTURES
The couple met back in high school and married in a luxurious wedding with performances by Beyoncé and Jay-Z in 2013. They are the proud parents of three kids: LeBron Jr., 13, known as Bronny, Bryce, 11, and Zhuri Nova, 3.
While Bronny and Bryce are already following their father's steps into the basketball court, they also have time to joke around with their little sister, and Savannah is more than happy of sharing some of their hilarious adventures with fans.
A few weeks ago, Savannah posted a video of Bryce and Zhuri showing off their dance moves to the "In my Feelings Challenge," the viral challenge that took over the internet after Drake's song hit the radios.
Later, she shared a video that shows her eldest son, Bronny, entering their living room barely holding in his laughter and carrying a huge backpack on his back. Once the boy sits down on the couch and opens the bag, little Zhuri comes out of it with a bright smile.
Savannah acted surprised and couldn't contain her laughter as her adorable girl threw herself at her mom.
The James' are a beautiful family, and even though Cavaliers fans are resenting LeBron for leaving them, L.A residents are more than happy of welcoming their family into their city for the next NBA season.
Please fill in your e-mail so we can share with you our top stories!