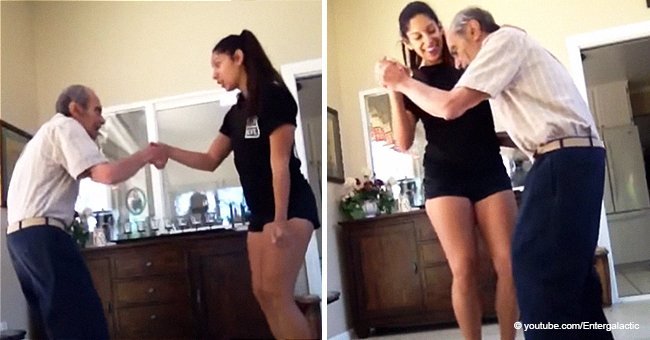 Girl asks grandpa with Alzheimer's to dance and he proved that age is just a number

This grandaughter's empathy for her grandfather is moving and he brightens up when his she asks him to dance.
Not only does Rachel take good care of her grandfather, but she also adds a little fun to his life every day, giving him a good reason to wake up every morning and live this stage of life to the fullest.
Although she was aware that her grandfather had a talent for dancing during his youth, she did not imagine he still had them.
In the video uploaded by YouTube user " Entergalactic ," Rachel turns the music on and invites him to join her in a dance. His face immediately lights up.
Read more on our Twitter account @amomama_usa,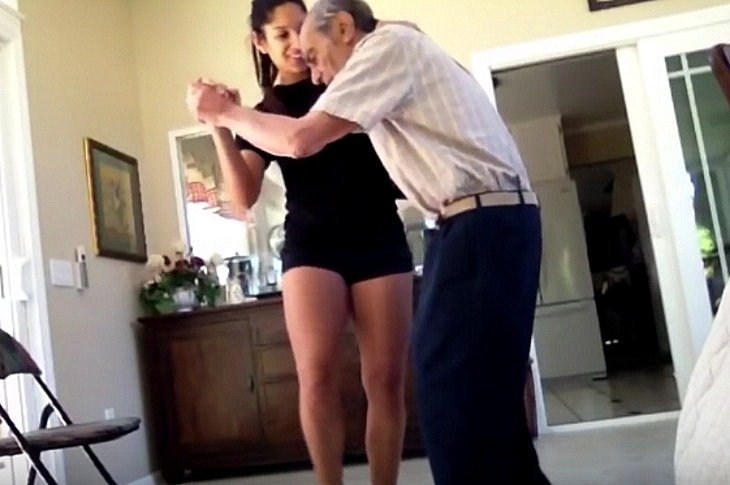 Source: YouTube/Entergalactic
Her grandfather is 93 years old and unfortunately suffers from Alzheimer's but that does not stop him from enjoying the simple things in life that make it beautiful and worth living it.
He made it clear that age is just a number and that one does not have to act as expected during the dusk of one's life. It proves that a person is really as old as they feel.
The grandfather did not doubt it for a second when his granddaughter asked for a dance. Relaxing and having a little fun was exactly what he needed.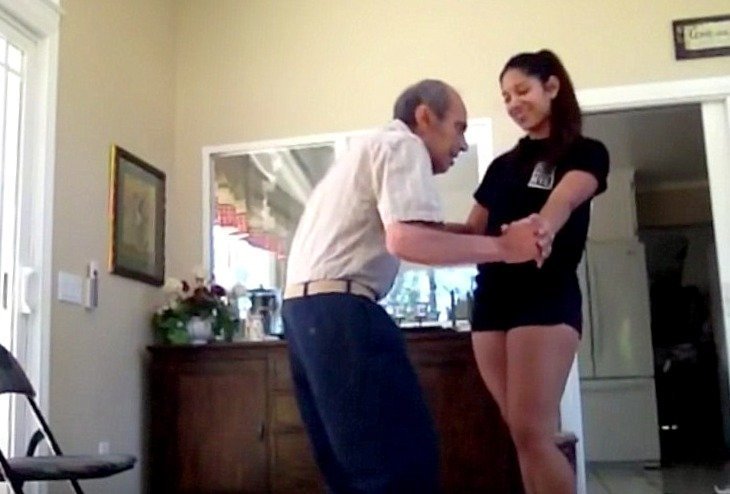 Source: YouTube/Entergalactic
While the two danced, the man never stopped smiling. It was a moment of pure joy, as they showed how much they mean to each other.
The video, accompanied by upbeat music to guide their steps, has been shared throughout the world.
Rachel ensured that the sweet moment was recorded to remember them her whole life. Now she can look back and relive those beautiful memories any time, and show it to her children one day.
According to the video description, this young woman does a lot for her grandfather, from the cleaning up to the preparation of her meals, and goes on walks with him.
"Rachel takes care of her grandfather who is going through stages of Alzheimer's. In between cooking, cleaning, reading, and going on walks, she was able to get this 93-year-old man up to dance again. He's got nothing on Richard Gere."
It is uplifting that she is always there for her grandfather during his his autumn years of his life.
It gives us hope to see so many young people caring for their older relatives, as it is only natural that youth brings along a great source of energy and humor to spare.
One of the treasures of old age is enjoying the company of grandchildren who gladly spent time with them and fill their lives with happiness and laughter.
This is exactly how the little Alaria Taylor, an 8-year-old from Alabama interacts with her great-grandmother.
Alaria was caught on video as she danced to Fifth Harmony's "I'm worth it" with her 97-year-old great-grandmother.
The clip was shared on YouTube by Alaria's mother Alexis back in 2015 and has been seen viewed more than 2 million times and received 17,000 likes.
Please fill in your e-mail so we can share with you our top stories!