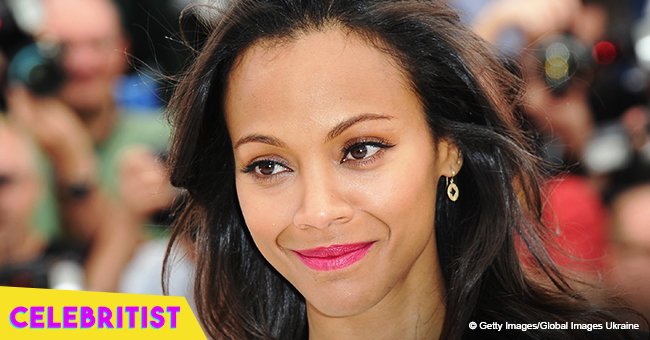 Zoe Saldana cuddles up to her blonde long-haired husband in recent pic
Zoe Saldana makes 40 look breezy and cozy as she shares a photo of herself on a romantic date with her long-haired husband.
Zoe Saldana is 40 and she recently revealed to her followers what it's like by sharing a romantic photo of herself and her husband.
In June, Zoe celebrated turning 40 by reflecting on being a mother and the lessons she's learned since being one. She revealed to ET during an event for American Express that being a mother has been "the most exciting, most challenging role I think I will ever get to play for the rest of my life."
Zoe also shared that one of the greatest lessons she's learned about being a parent is to give as much priority to herself as her kids.
"I think it's important to not forget about yourself. Even though you wear many hats, you have to wear your own and make time for yourself whether that's reading a book or going to the spa or simply just sleeping or cooking for yourself."
This month, Zoe made sure some of that time for herself was spent with her husband Marco Perego. She shared a romantic photo of the two of them and they looked so in love. The image Zoe captioned "This is 40" is a reminder of how couples should still find time to be together despite becoming parents. Zoe was dressed for the occasion wearing a long white sleeveless dress. She matched it with a pair of dangling earrings and tied her hair neatly away from her face. Marco's long blonde hair provided a contrast to his all-black outfit as he hugged his beaming wife while they stood against the backdrop of the city's nighttime landscape.
Zoe and Marco who secretly married in June 2013 in London share three boys together. They welcomed twins Cy and Bowie in 2014 and three years later, Zen arrived. Since having a family, Zoe has been very vocal about raising them in a gender-neutral environment. In fact, she and her husband have set themselves as an example. After they married, Marco took Zoe's last name and Zoe took his. He now goes by the name of Marco Perego Saldana and Zoe carried Zoe Saldana Perego. In May, Zoe gushed about her husband who she described as "the most perfect partner in life."
"I've never met a male like my husband, who [believes] any woman is naturally his equal."
Part of the gender-neutral environment they've set up for their kids, Zoe and Marco agreed there will be no labels at home.
"That 'Mom's the boss' thing is not going to happen in our family, because that means he's the fun one, the good guy, while I'm the disciplinarian. I don't want my kids to look at women like, 'Oh, god, they're so annoying! They always come with structure.'"
Another star who's all for gender equality and doesn't believe in labels is singer Pink. When she graced the cover of People Magazine's "Beautiful" issue in April, she opened up about making her home a gender-neutral space.
"I believe that a boy can do anything. So I have boys that flip dirt bags and I have boyfriends that wear dresses. It's all okay to me."
Pink is a mother to a six-year-old girl and a one-year-old boy and she makes sure their lives are not limited to stereotypes. But she also believes laughter is a good way to make light of things despite her worries and fears about the state of the world her children are growing up in.
Please fill in your e-mail so we can share with you our top stories!