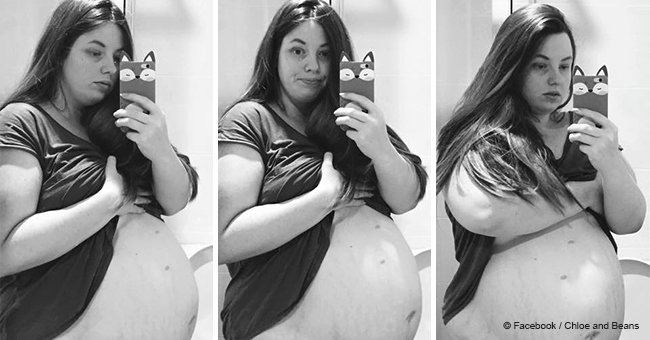 Mother-of-three had to make a difficult choice when giving birth to miracle triplets
Chloe Dunstan was faced with a difficult choice to risk boys' lives to save their little sister by delivering early. The miracle triplets are now home in perfect health.
Chloe and Rohan Dunstan, of Perth, captured the attention of Australians and decided to share their journey on Facebook.
The mother gave birth to the triplets on July 3, 2015, two months before the due date in Perth. She uploaded one of the first pictures of the babies when she was pregnant.
However, mid-way through her pregnancy, she was faced with a tough choice – she could continue the pregnancy and lose her baby girl or put all three babies at risk.
The girl, who was smaller than the other two, was deprived of oxygen and nutrients. Chloe had to deliver the triplets at 28 weeks.
Fortunately for Chloe and Rohan, they welcomed their triplets – Henry, Rufus, and Pearl. They also had to spend 11 weeks in the hospital before they could bring the newborns to their home.
"I feel guilty for having the boys delivered when they were growing so well in the womb. But Pearl would have died if we didn't deliver early, so I will never regret that."
Chloe Dunstan, Daily Mail Australia, September 24, 2015.
She confessed that she did briefly consider the option of letting her go and giving her boys a good start in their life. However, she cannot imagine not having the girl in their lives and is glad they took the risk.
Due to early birth, there were complications. Henry weighed three pounds, Rufus 2lbs 6 oz., and Pearl weighed just 1 pound 5 ounces at the time of the birth.
All the three had to undergo blood transfusions. However, it was Pearl who struggled the most. Chloe said that her daughter had a pulmonary hemorrhage, a minor brain bleed, and an infection. There were times when the family was not sure if she would make it.
She also had a metabolic bone disease which was resolved with medication. She had issues with her liver, but the scans later showed that things had improved significantly.
The family revealed that a typical day involved six jumpsuits, 20 bottles, and 25 nappies. It takes the couple more than an hour to feed and settle the twins, while the little ones also wake every four to five hours at night to eat.
On September 4, 2015, they shared that they returned home with their boys after nine weeks and two weeks later, Pearl came back. The triplets joined their three elder brothers to make the Dunstans a family of eight.
The family has a large following on social media with Chloe's Instagram page having more than 45,000 followers. The proud mother said that she could not wait to see how the bond among her children would grow over time.
Courtney and Phillip Garret of New Orleans gave birth to three healthy babies – Ellie, Jack, and Oliver through IVF. After the triplets celebrated their seventh birthday in 2017, the couple decided to try again.
Courtney conceived triplets the second time, too. Though they were not identical unlike the first set, the parents did not bother about it.
A couple from Tulsa, Oklahoma, Andy and Sarah Justice, wanted to have their own family. After they were unsuccessful in conceiving a baby, they turned to IVF. However, they backed out as the procedure was too expensive.
They decided to adopt a child. They soon learned that they were matched with a pregnant woman who had agreed to place her baby for adoption once she gave birth.
It was a surprise to the couple that the woman was pregnant with triplets. They welcomed Joel, Hannah, and Elizabeth and did not know that they were going to be surprised again.
During a doctor's appointment, Sarah learned that she was pregnant. It was during her second sonogram that the doctors told them that she was carrying twins – a boy and a girl. The family grew from two to seven in a matter of a year.
Please fill in your e-mail so we can share with you our top stories!