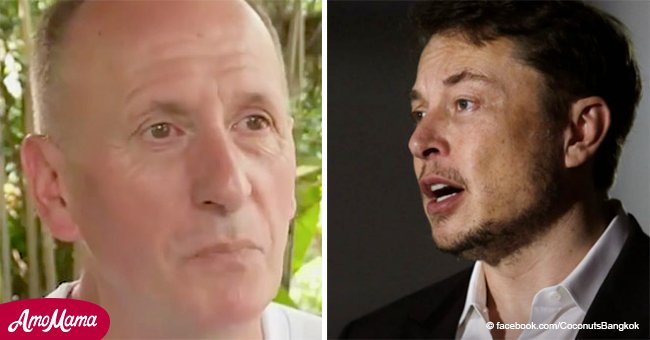 Elon Musk accuses diver who helped save boys out of a Thai cave of being a pedophile
Elon Musk and Vernon Unsworth, a cave diver who helped saved 12 boys from a flooded cave in Thailand, don't see eye to eye.
Back in July, Musk offered to build a mini-submarine to assist in rescuing the trapped children. At the time, Unsworth said it wouldn't work and referred to it as a "PR stunt."
Musk then retaliated and called Unsworth a "pedo guy" and said that they would make a video of the mini-sub "going all the way to Cave 5 no problemo."
He later apologized for his remarks, saying on Twitter that he was angry.
He explained: "My words were spoken in anger after Mr. Unsworth said several untruths & suggested I engage in a sexual act with the mini-sub."
Musk added that the mini-sub had been built as an act of kindness. Read more on our Twitter account, @amomama_usa.
While it seemed that the online fury over his statement died down after his apology was issued, Musk ruffled feathers again last week.
Ryan Mac, a Buzzfeed reporter, said on Twitter that Musk sent him an email in which he accused Unsworth of "being a child rapist who took a 12-year-old bride."
Mac said Musk didn't provide any evidence for his accusation apart from saying that Unsworth had been traveling to Thailand for the past 30 or 40 years and that the city he visits is known for child-sex trafficking.
The letter in its entirety can be viewed here. Since the contents went viral, Unsworth's girlfriend of 7 years, 40-year-old Woranan Ratrawiphukkun said the claims were "laughable."
Of Unsworth, she said: "I know what kind of person Vern is. If he weren't a good man, we wouldn't still be together after all these seven years."
Both Ratrawiphukkun and Unsworth sister, Mrs. O'Connor, said that he would take the matter up with his lawyers.
Mrs. O'Connor also told the Daily Mail that she had met Ratrawiphukkun before: "She is charming. She's not a child."
Musk has yet to respond to his emails being published on Twitter and Buzzfeed.
Please fill in your e-mail so we can share with you our top stories!